Joined

May 21, 2013
Messages

195
I'm trawling through lots of jewelry for the series on Antique Pearl Jewelry YOU Could Own.
I'd be interested in members' comments on this vintage necklace. It's a triple strand of graduated cultured pearls sized up to about 8mm, with a fab silver and marcasite pearl clasp, stamped GERMANY 935, and probably dates to the late 1930's to early 1950's.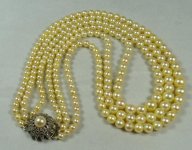 The cultured pearls are obviously Akoya's, with very thick nacre (1mm+) and have a distinct golden color with very high luster and an overtone that is almost like a pale bronze metallic with oil slick colors (couldn't capture those in the pics).
I'm guessing these come from back in the day when Akoya's were left for two or three seasons to develop thick nacre, and long before the current practice of post-treating/bleaching cultureds to make them as white as possible.

I know from this link
https://www.pearl-guide.com/forum/showthread.php?t=3856
there has been interest in Golden Akoyas in recent years, but does anyone know whether they were highly regarded back in the 1930's to 1950's?
I've seen comments these Golden Akoyas were particularly suited to darker skin colors.
Last edited: