Pearl History of Egypt
We know that in ancient civilizations, long before recorded history, people adorned themselves with seashells and beads made from seashells. Therefore, it is not surprising that the earliest use of mother of pearl in jewelry occurred in Egypt, about 5,200 years ago. Mother of pearl was used to make cartouches and beads. There are rare examples of pearls in the paintings and statuary of these eras in ancient Egypt, but pearls themselves appear to have been uncommon in these ancient dynasties.
​
Pearl History of China
China claims the earliest mention of pearls in their historical texts, about 4,000 years ago. Mentioned specifically were freshwater pearls from the river Hwai and the province of King Hau; these were described as "not quite round", which is still a common description of freshwater pearls! Chinese history mentions freshwater pearls in connection with many other ponds and rivers in China. There are also mentions of "sea pearls" from China as well as Japan.
Pearl History of India
India has a long and glorious history of appreciating pearls. About 3,000 years ago, pearls were mentioned in the
Rigveda
, the oldest of the Vedas. Around 2,500 years ago, the Atharaveda mentions an amulet made of pearls and used as a talisman. The ancient epic poem, the
Ramayana
, describes a necklace made with 27 pearls. Imagine the classic 16-inch necklace of about 9-11mm pearls these would have been spectacular pearls! The god
Krishna
is also associated with pearls in important stories.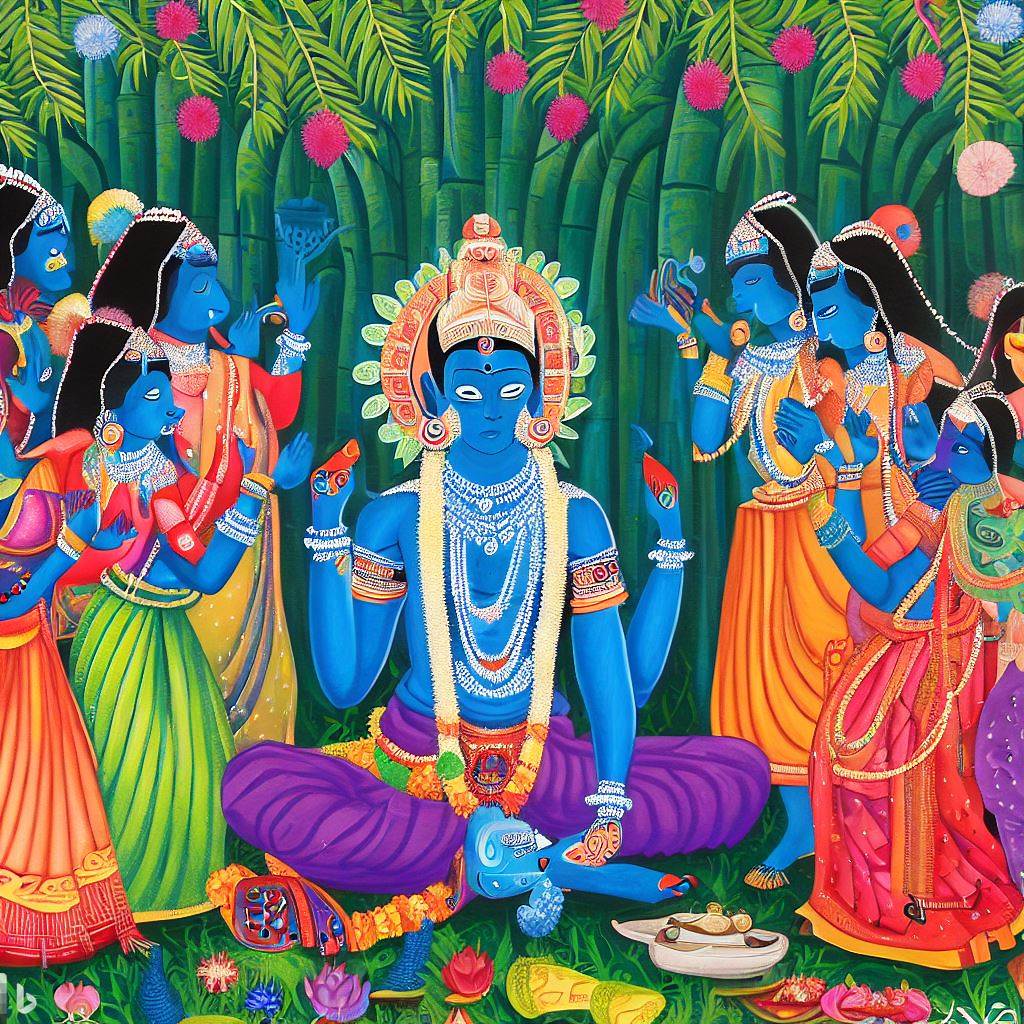 (Image produced with AI/Bing Chat/GPT)
The Persian Gulf
Pearls from the Gulf of Persia have been known for at least 2,700 years, not through the written word, but sculptures and coins. The gulf pearl beds were arguably the oldest, and largest, ever known. There was no other place in the world where pearl oysters grew more and better pearls, or where it was possible to dive for pearls in more places, than in the warm, shallow waters of the Persian Gulf, with its many freshwater springs.
The oldest pearl necklace still in existence comes from ancient Persia, from a 2,400-year-old Queen's tomb. Known as the "
Susa
necklace", it has 3 rows of 72 pearls each, held with spacer bars. This design is one of the oldest pearl necklace styles. The Susa necklace has been shown in the Louvre's Persian gallery, for over 100 years. In "The Book of the Pearl", you can find a black and white photo of this necklace opposite page 399, item 9.
Pearl History of Ceylon
Ceylon, today known as Sri Lanka, enters into the historical pearl records quite early, about 2,550 years ago. A Ceylon King is recorded as having sent gifts of pearls to his father-in-law in India. There were pearl beds in Ceylon, but Ceylon was also the crossroads of all trade in Asia.
Pearl History of the Philippines
The Filipinos are described in Chinese logs as having sold them pearls from the Philippine island of Palawan 1,400 years ago.
Palawan
is still the best pearling island in the Philippines and is home of the famed divers of the
Sama-Bajau
or
Badjao
tribe, sometimes referred to as "Sea Gypsies".
Pearl History of Greece
The ancient Greeks and Persians were intimately involved in pearls from about 2,500 years ago. Persia was a major source of pearls for Greece. Homer describes Juno's pearl earrings: "In three bright drops, her glittering gems suspended from her ears". A beautiful Greek necklace of pearls and gold, which dates from about 2,300 years ago, was displayed at the Metropolitan Museum of New York 100 years ago. It is one of the oldest known pieces in the world and may still be owned by the museum. Though it has lost much of its luster, it is still a stunning piece.
The ancient Greeks also enjoyed wearing pearls, using them especially at weddings where they were said to bring love to the newlyweds.
Greek Egypt, was ruled by the
Ptolemys
and Queen
Cleopatra
was their last ruling descendant. She was famous for conspicuous consumption of pearls, both literally as well as figuratively. Conspicuous consumption had never reached the heights to which Cleopatra took it -before or since- as when she made a meal of a fabulous pearl on a wager with Marc Anthony.
You can see a video of this fastuous dinner wager and the scientific basis behind this historic episode by watching this educational video:
Read more...
Continue Timeline with Rome, Judea, Europe, The New World, and the 17th through 19th Century
next
Related Articles and Forum Threads:
Last edited by a moderator: