Natural Pearls Defined
Natural pearls
are calcium carbonate secretions which form within mollusks without human intervention.
Natural Pearls Accidents of Nature
Natural pearls are formed randomly and really are simple accidents of nature. When a certain type of irritant, such as a parasite, becomes lodged in the tissue of a mollusk, the animal responds by secreting a calcium carbonate substance called nacre to coat the intruder and protect the mollusk. Over a period of several years, this build-up of nacre forms a natural pearl.
Natural pearls form in concentric rings, very much in the same way an onion grows.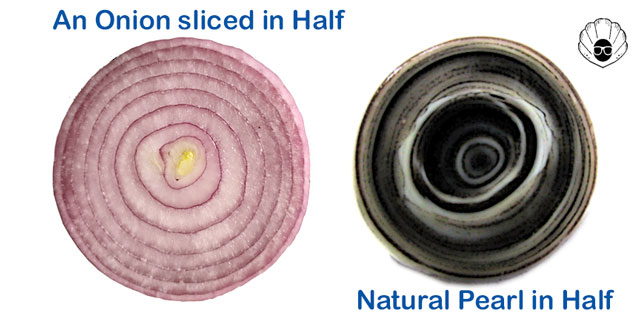 Discovery of Natural Pearls is Rare
Natural pearls of any commercial value or desirability are extremely rare. Instead, since the early part of the 20th century, cultured pearls have supplanted natural pearls as the most common and available pearls.
Cultured Pearls vs. Natural Pearls
Cultured pearls are still real pearls, grown organically inside of oysters in the same way as natural pearls. The difference is that in the case of cultured pearls, the pearl farmer intentionally stimulates the development of the pearl by inserting a "
nucleus
" into the oyster. Thus, the formation and discovery of the pearl are no longer left to chance.
Natural Pearls Today
Although natural pearls are found primarily in older jewelry from estate sales and auctions, their popularity is making a comeback. Colorful abalone and conch pearls have begun to find favor in exotic, unique designs. Back in 2007, a double strand of 68 perfect natural pearls known as the "
Baroda Pearls
" was auctioned at Christie's Auction House for $7 million American Dollars.
Related Articles and Forum Threads:
Last edited by a moderator: