Thanks so much Katbran!
Both of your strands are beautiful, Charlotta! The colors and luster of your mismatched pair look wonderful!
This time, I took pictures of one of the flower stalls at the Saturday Market.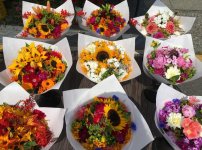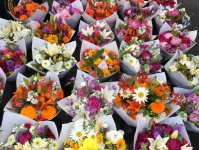 I went with a softer pastel bouquet for this week-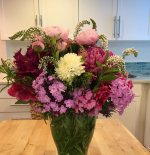 Another new pair of earrings! They are golden freshwater pearls with a kiss of apricot from Katbran. I paired them with several tiny pearls. Two strands of Akoya round and Akoya keshi, a station chain of Myanmar keshi, and a station chain of Biwa pearls.