Joined

Feb 26, 2015
Messages

2,465
Thanks, Charlotta! The Andy Muller strands work well with a lot of my clothes. Your new rainbow strand has a unique combination of colors- enjoy wearing it!
TXPearlLv- I have a few different pieces I use to attach my pendants. It's difficult to do a search because there isn't a standard name that I'm aware of. Anyways, not sure how helpful this is because I've had them for several years. On the left is an orbit clasp that John, at PP, modified for me by removing the loop. The other three are from Rio Grande. The one to the left is no longer available. The other two have the snap closure. Rio calls them enhancer bails and they are 14kt yellow gold.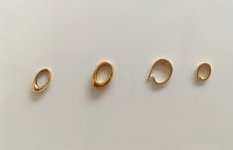 I use them with pendants that have simple bails because they will turn the direction of the pendant. I took this snapshot so you can see this pendant has a decorative diamond bail, but it will be turned sideways when using the enhancer.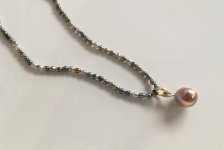 Sorry- just noticed the attachments weren't opening. Trying again-
Last edited: