Joined

May 13, 2015
Messages

6,772
Today I wore Mom's lapis and yellow gold bead and pearl necklace worn with a lapis heart on a silver chain that my husband brought back from Chile when he was a grad student there. Sapphire earrings and ring. New Boden skirt and top.
I know many of you liked the Rice Krispie and lapis necklace layered with this lapis necklace, but I just do not like them together. I wasn't sure about the silver chain with the yellow gold beads but my rings and bracelets are white and yellow gold today, so it works.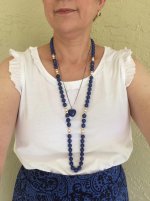 Cathy, here's my first attempt at tea eggs. Apparently, it's important not to break the shells or you get dark fissures in the eggs (see egg on the right).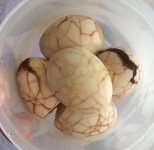 Hard boil the eggs by covering with water and bringing to a boil (which should take about 10 minutes).
Turn of the heat, cover, and let them sit for another 10 minutes.
Then gently crack the shells, but don't break the shells. You want to keep that membrane the shell sticks to intact if possible.
Simmer for an hour or two in black tea, lots of soy sauce or tamari and a teaspoon of 5 spice power.
Cool and peel, and they look like marble.
They are also highly caffeinated and will keep you awake (or so the recipe says).
I haven't tried them yet. I'll have one for breakfast tomorrow morning.
Last edited: