Joined

Jan 4, 2014
Messages

335
I've had some of my pearls restrung and incorporated other pearls and gems to refresh the originals.
I bought this pastel baroque strand on eBay and was disappointed that it looked washed out in real life. I was on the verge of returning it when I decided to mix in some 6.5mm gold freshwater pearls. That solved the contrast problem, but as a necklace, it felt too retro for my taste.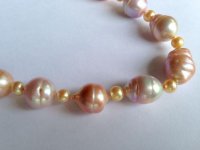 One day, I tried them as a bracelet. Voila, they are now my go-to hand ornament.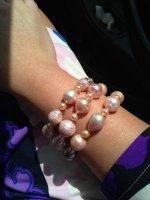 These grey potatoes were my first "big" pearls, and I loved their chunkiness. Still, I thought they could be more contemporary. So I rummaged through my toolbox and found topaz cushions that became the new focal point. The inclusion of two silver spacer beads was not part of the plan, but I thought they gave it an unexpected touch--like a pretty model with a gap between her front teeth.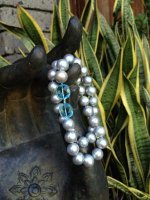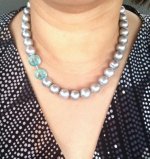 Last edited: