Oh, parrotlady, that's a beautiful strand! Those colours are wonderful.
Jeg, the sea-glass strand is just so lovely, and I'm loving all your cute dangly earrings.
Bweaves, I really like mismatched earrings. Those look great.
I'm in my own mismatched earrings today - little black and white Tahitian keshi. Plus an old freshwater pendant that I see from the photos needs a polish, plus a vintage Akoya strand that had quite a few damaged pearls, so I lengthened with little ruby beads.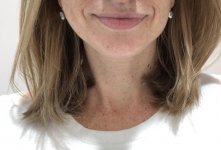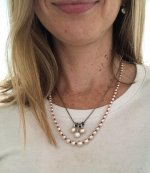 On the topic of supplies, I've just received some pretty silvery white keshi from a Chinese vendor. I bought them with the intention of mixing them in with a light baroque Tahitian strand I don't wear much to make a rope. I'm very pleased with the keshi, but now I cannot find the Tahitian strand anywhere - I had it out to compare colours with the keshi yesterday, and now it is quite gone. Hopefully it will turn up again, but in the meantime, maybe I'll string up the keshi to wear by themselves.