Joined

May 13, 2015
Messages

6,410
OMG, too many beautiful looks to comment on. I love them all.
It's a blue day here, and by that, I mean lots of rain in the afternoon. Blue baroque akoyas from PP. Drop earrings and Greg Who pendant from Kojima.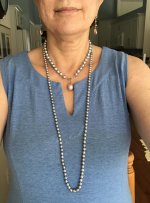 The soap bubble effect on all these pearls is very high, but it's not coming through in the photos. The blue pearls are very blue with lots of hot pink color. The pink pearls (earrings and pendant) have a ton of purple and blue and green in them.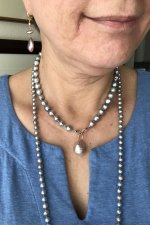 Thysa's look in reverse!