Joined

May 13, 2015
Messages

6,409
Still cold here, so I took a photo in an empty office. I'm still on a white triples kick.
Natural white Hanadamas from PP, and my first akoya rope, worn with my birthday choker with Mom's mabe' enhancer and mabe earrings. I'm not really a mabe' fan, but I felt like these needed to be worn today. They're growing on me. I think mabe's were Mom's only way of handling pearl shrinkage syndrome in the 1980's and early 90s.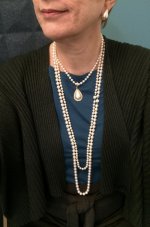 Here's a more infocus shot I just took at home. Years ago, it would have bugged me that the pearls in the various necklaces don't match. Now, viva la difference.
I'm actually blown away by the akoya pearls in my birthday necklace. They're 60 years old and they look as good as my Hanadamas.
Last edited: