Joined

Apr 29, 2014
Messages

581
Today are my Vietnamese silver pistachio akoyas from the recent PP vietnamese akoya sale. I think I'm a "small pearl" girl. I am so in love with these. When I first saw them I thought "OMG, people are going to think I'm wearing little silver ball bearings". They are THAT lustrous. It's a shame my picture doesn't show that.
I got two compliments on the first day i wore them. I am really looking forward to PP offering them again.
I had mine strung to 16.5" and I use the remaining 8 pearls to make a very dainty tin cup choker.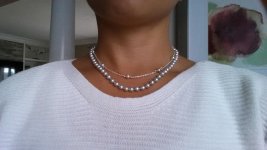 Last edited: