The Tahitian rope is stunning, and so are the SoC mabes. I can't wait to see neck shots of the Fijis.
I took my Kojima Tahitian tin-cups out for a spin today with my Komoka B/W studs and Mom's cameo girl with a diamond earring.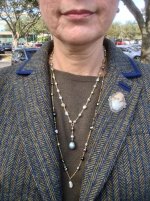 Yesterday I wore my PP Tahitian strand nested inside my Kamoka Tahitian strand, with my Kojima T and opal drop earrings. The two necklaces don't match at all, but I love them together.