Joined

Dec 28, 2016
Messages

160
MSC: I love your tiny natural pearl necklace! So dainty and pretty.
Luvglitz: stunning Tahitians. That SoC is TDF!
BW: beautiful studs! I'm partial to the silver side but both are beautiful
Kalmen: You are always stunning in your pearl jewelry. Love the long drops on you.
I'm wearing a 8.5-9mm 50" rope I had WenPearls make for me on Etsy. These are baroque "akoya" pearls...I quote akoya because I can never trust a seller 100% BUT they are very pretty pearls, decent lustre for what I paid. So, akoya or not--I like them. I'm assuming they're just lower quality Chinese akoyas--they do have mottling, surface blemishes and a couple of them are more irregular shaped than others but some of the pearls have amazing orient. They have a very subtle light pink body colour to them.
I paired them with some fun chunky nugget pearl studs also from Wen. Very inexpensive and kinda neat! These make me want 12-13mm round studs!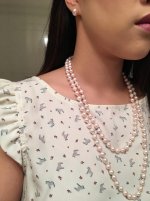 Better lighting to show the lustre: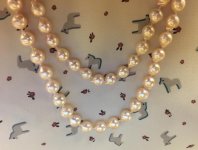 Last edited: