Joined

Apr 8, 2012
Messages

1,721
I get a ping from eBay whenever a Sea of Cortez pearl auction appears, and this one hit my in-box yesterday. I recognize the distinctive flattened oval shape of Chinese freshwater pearls. During the ruckus Douglas was telling me about how thousands of strands of Chinese freshwater imports are being sold in Mexico as his pearls. I said, surely you can tell by the inexpensive price, and he said not always.
http://www.ebay.com/itm/Sea-of-Cortez-Pearls-/252050260452?
I particularly love how the seller crushed a pearl to show it was a natural.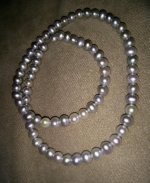 Buyer beware.