Joined

Jan 18, 2021
Messages

76
Okay, I solemnly swear to check myself into compulsive buyers rehab after this purchase, but I bought another pre-owned pearl necklace off Ebay. To me it looks beautiful, but almost immediately after the auction ended I started having second thoughts. Is it possible these might not be South Sea pearls? Can you tell the difference between SSP and nice bead nucleated freshwater pearls- if you aren't an expert, which I'm not? I haven't been worried about my last purchases because I was pretty confident they were vintage, but that clasp doesn't look particularly old to me, which has me worried. I'm including photos from the seller, and can give more information when they arrive to me. It wasn't priced unrealistically low (if it makes a difference I don't mind sharing the price, I just don't want to be tacky and blurt it out, ha ha), but it was quite a bit less than they would sell new. They're 12.4-13.4mm. There's a return policy so no great damage if they are FW.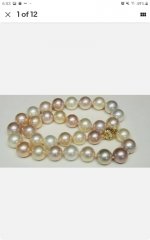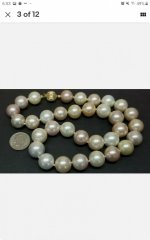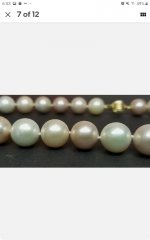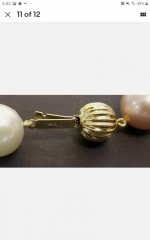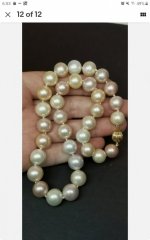 I've done a little more research and now I'm even less sure. I'm not really seeing many, if any, SSP in those pinkish/lavender colors. That seems more like a FW pearl color. Maybe it's a mix?
ETA: Okay, I heard back from the seller. I was pretty sure it was a mistake, but now there's no doubt in my mind that it was an honest mistake. He explained how he'd come to believe they were SSP, and his explanation made perfect sense- it's probably the same conclusion I'd have come to if I didn't have this forum! He plans to get the pearls checked out by an expert so he can list them honestly- and refunded me, of course. Very impressed with his integrity!
Last edited: