Just today, Jennifer Heebner informed all of us at the
Cultured Pearl association of America
that someone is playing a SCAM by sending out an email from
info@cpaa.net
(this is not a CPAA email, since this organization uses cpaa.org). The email states it has a FUNDRAISER for a Brandon individual. THIS IS NOT THE CASE.
This comes directly from the CPAA:
Don't Click! Delete!

Some members have reached out to Jen with regard to receiving a spam email. CPAA IS NOT DOING A FUNDRAISER FOR ANYONE!
Please delete the email!
Look at the email address the outreach is coming from; it's not from Jen or Kathy.
Please see the photos. CPAA correspondence will come from any of these email addresses @cpaa.org.
When in doubt, reach out to Jen Heebner or Kathy Grenier for help.

​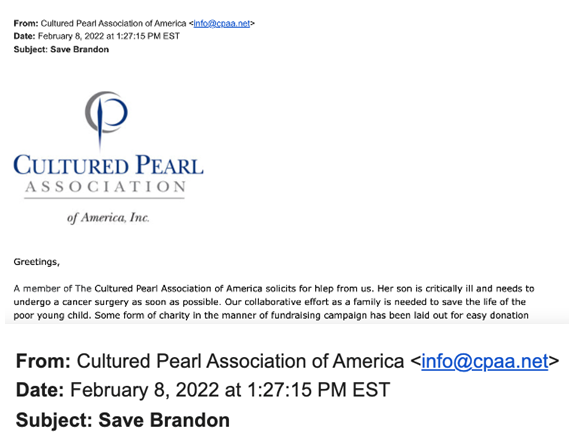 Last edited by a moderator: