If you can't visit the Tucson Gem Shows, you can live vicariously through this roundup of pearls and people. You won't even need the most important accessory in Tucson -- a good pair of walking shoes!
First stop was the
NAJA
booth to see author
Renee Newman
and pick up the terrific new edition of her Pearl book. Renee's books are full of wonderful photos and her clear writing style makes gems easy to understand and appreciate. For those who want to branch out, the Exotic Gems series is perfect for credentialed and armchair gemologists, alike.
My second stop was the AGTA show back hallway, to spend time with Jennifer Heebner, my favorite pearl-loving journalist. Okay, my favorite journalist, period. I know of no one as open to new ideas as Jennifer. She's working on some wonderful new projects and showed me some rough video that will be amazing when complete. Jennifer's insight into the people side of the jewelry industry is going to get a workout. Look for her own website, coming soon:
www.jenniferheebner.com
.
Then it was off to the show floor where I stopped by Atelier Marisa to see Marisa La Belle's latest designs. Here is a necklace with Tahitian keshi strands and drop pearl, centered around a gem carving made to look like a trapiche emerald. Later, you'll see the real trapiche emeralds in dazzling earrings that will be a "Pearls of the Week" feature on Pearl Guide.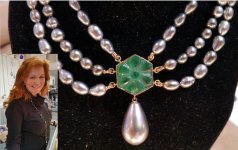 Marisa La Belle, Atelier Marisa
www.ateliermarisa.com
Time with The Pearl Goddess, Betty Sue King of King's Ransom Pearls, is always well-spent. Betty Sue has a knack for finding pearls that cry out to be caressed and cherished. Here are some candy colored Edison or Edison-style pearls. The ovals in the second row are splendid. Betty Sue has started mixing them with golden South Sea pearls -- gorgeous.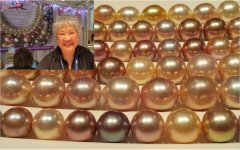 Betty Sue King, King's Ransom
www.pearlgoddess.com
Stopping by the CPAA (Cultured Pearl Association of America) awards/display, Paula Crevoshay posed for a photo. Her magnificent earrings received a commendation award. Another future Pearls of the Week, they will be featured in a video that lets the gems sparkle.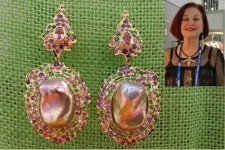 Paula Crevoshay
www.crevoshay.com
While Paula is popular with the Pearl Guide forum crowd, the clear favorite is Hisano Shepherd of little h jewelry. Hisano's incredible black diamond and Tahitian pearl earrings received a CPAA commendation award. No photo of Hisano, as she was showing her jewelry in the handmade section of the NY Now Show, for which little h was immediately declared Best in Show by JCK.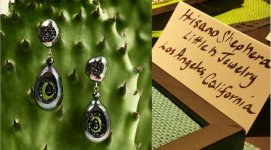 www.littlehjewelry.com
Brenda Smith had her new necklace "stolen" for the public's viewing pleasure in the CPAA display. This amazing necklace featured the largest suite of round freshwater pearls available. Word got out and the necklace was purchased by a client just before the show began. Definitely a winner!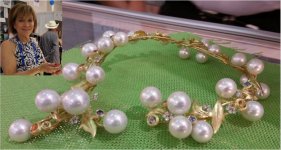 Brenda Smith
www.brendasmithjewelry.com
Another CPAA commendation award went to Michael Jensen for his intricate bracelet with green gold, exquisite tiny pearls and a whopping Tahitian pearl. I wanted to visit his booth at another show to hear the story behind his whimsical bracelet, but ran out of time.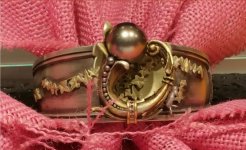 www.michaeljensendesigns.com
Kathy Grenier, of
Imperial
and
CPAA
, pointed out the wonderful carving work within these earrings by Elizabeth B. Kirby of Elizabeth Blair Fine Pearls and helped me to get a photo where it could be seen and appreciated. These would be perfect bridal wear.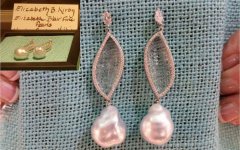 Elizabeth B. Kirby
www.elizabethblair.com
Helen Serras-Herman is an artist. The gem carving on her pearl and gem necklace is a regal example of her work, titled "Uranus, the Sky God". Helen is an FGA, has a Masters of Fine Art degree and has been inducted into the Lapidary Hall of Fame. You can read about her life on her
website
and check out her sculpture.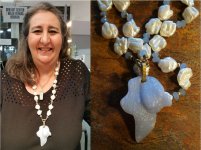 Helen Serras-Herman
www.gemartcenter.com
We have been talking on Pearl Guide about the gem connoisseur experience to be found in Richard Wise's 2nd Edition of Secrets of the Gem Trade. Richard knows how to tell a story and illustrate it in the most beautiful way. The first edition was great, but this is sensational. Here is Richard working the Author's Table at the AGTA Show.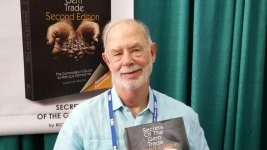 Richard Wise
www.secretsofthegemtrade.com
This is Tucson we are talking about, so we must include a giant crystal photo. It was taken in front of the Riverpark Inn, where the Pueblo Show was in full force. I procured a volunteer to stand nearby to give reference to the enormous size. If you love rocks, this show literally has tons of them.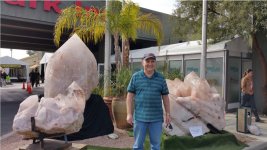 Back on the pearl prowl, I headed to the GJX Show where I visited Pacific Coast Pearls. They only deal in natural (wild) pearls. Tish Rankin graciously allowed me to take many photos, which will be shared later on Pearl-Guide. Here is a lovely clutch of pink conch pearls. My friend Jeremy Norris postulates that conch pearls are subconsciously enticing as they look like jelly beans. Definitely for adults!
Tish Rankin and Zachary Kottong
www.allnaturalpearls.com
Sarah Canizzaro of Kojima Pearl Company is an active member of Pearl Guide and another favorite. Sarah shows in partnership with Fuji Voll of Pacific Pearls. Together, their booth is a little slice of pearl heaven where you can get the REAL Kasumi-ga-ura pearls from Japan. We will be featuring a wonderful video of the booth at a later date. For now, enjoy these luxurious earrings.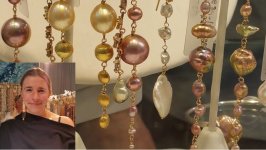 Sarah Canizzaro
www.kojimapearl.com
Perlas del Mar de Cortez is the place for colorful Sea of Cortez pearls, also known as Cortez Pearls. You can see what I am talking about
here
. Douglas McLaurin-Moreno and Enrique Arizmendi-Castillo enjoy sharing the colorful produce of the pearl farm. These pearls are little chameleons that shift color in different lights and are prized by jewelry designers.
Ikeda Pearl Company had an enormous pastel multicolor baroque South Sea pearl strand that was stopping people in their tracks. I was one of them!
www.ikedapearl.com
You meet the greatest people in Tucson. The conversation starter for Teresa Polly of Jewelry Television was this dreamy pearl and opal brooch owned by Christopher Clark. It was featured in Volume 1 of the Sisk Gemology Reference by Jerry Sisk, whose untimely passing in 2013 left a huge void. Teresa shared that the three-volume Sisk Gemology Reference set is being completed and will be ready sometime in March. I've seen the first volume and it looks terrific.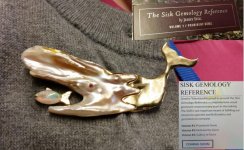 www.jtv.com
Over at the GJX Show, I was perusing the booth of Brian Cook and Kendra Grace, Nature's Geometry, and commenting that I wished they had some pearls so I could put their jewelry online. Kendra said that I had to go see her daughters over at AGTA, where they were showing the line Quore which did have pearls. Not only pearls, but Cortez Pearls! Small world, eh?
Beautiful jewels and a beautiful family to end this review.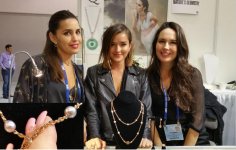 www.quorejewelry.com
Blaire Beavers
Managing Editor
Pearl Guide News