Joined

Aug 30, 2012
Messages

408
Translated with google...
The last annual auction GIE Poe O Rikitea has once again exceeded all expectations. First day to more than 110 million francs, and a second 171 million while the organizers expected 151 million, this 8th edition has placed the head of Japanese buyers.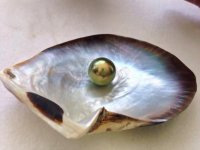 An exceptional 18.6mm peacock pearls sold for 17,978.59 USD
as seen here
.
Auctions organized by the GIE Poe O Rikitea and his associates have not only brought its batch of beads, but also surprises , such as the presence of this single pearl 18.6 mm color pistachio . Although the owner had never intended to sell the hard pressing of a private buyer ended up with the approval of the pearl farmer . This pearl, comes from the austral?enne farm ( Gambier Islands) of Dominique Devaux, the same organizer of the event , whom got the best price per piece : 17,981.85 USD. The lucky Japanese purchaser decided to make of it a true ambassador during his many trips abroad . "The buyer said he expected the exhibit in each of his trips . In fact , he wants to promote our pearl . "
On two days, 265 lots were presented for a price fixed at 1,753,283.76 USD. Yesterday morning, at the last day reserved for the liquidation of unsold , there were only 22 unsold lots. After counting, it was found that the overall turnover was 1,985,389.24 USD , a gain of 19.65% . 29 buyers from Europe , Asia and fenua have acquired the finest lots. However, the Japanese have won the majority of pearls or 47467 pieces.
More than a sale, the auction represent a bargain, even a hope for the future of Polynesian pearl farmers . On the sidelines of the event, Dominique Devaux has embarked on a quest for excellence by developing a draft hatchery selected oysters. "Now , I look for a way to grow oysters male and female pre-selected to see under what conditions it would be possible to grow in quantity. (...) For this, I met IFREMER which also conducts studies in this direction, as well as the Directorate of Marine Resources . Together, we want to implement a major program of culture pearl quality . How ? Well , by selecting nacre in all archipelagos, it may well mean for pearl farmers to cultivate less, of course, but with an increased chance to obtain pearls such as 18 mm. Everyone has the right to equal opportunity and today, it is not just words , but a reality since studies are underway. Things changing and the Minister of the sea is completely in line with this project. " Dominique Devaux told us remains optimistic for the future.
The success of each sale reinforces even more the organizer in its approach and intends to restore its former glory , the black pearl fenua . The next sale is scheduled to be available in March 2014.