Joined

Jun 22, 2004
Messages

6,019
A famous Chinese actress/influencer created a Tahitian pearl buying frenzy in Hong Kong last week, unlike anything I've seen in my 2+ decades of pearl buying. Chinese actress Ni Ni, best known for her role in the 2011 film
Flowers of War
, went on a
Pearl-Wearing social media tour
while promoting her summer film,
Lost in the Stars
. She loves to wear pearls, and In celebration of box office exceeding ¥3 billion, she posted 30 pearl selfies with an emphasis on Tahitians.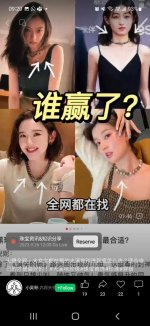 ​
The day before the show started, Hisano and I bumped into friend from Tahiti at The Mira Hotel in Tsim Sha Tsui. We had communicated in the weeks prior and were planning to meet with him the first day of the show to review lots and select pearls for a Facebook Live event. But the show hadn't even started and he was out of pearls. Three buyers purchased 90% of the lots he had brought to the show, and other buyers were still contacting him.
When the show started, many booths were nearly overrun with crowds of buyers squeezed into every corner of the display cases. Some closed within the first hour on day one. They were completely sold out. Very near 100% of the buyers were Chinese.
A collection of fine multi-color Tahitian strands were being sold for nearly $50k in the 9-11 mm range and to nearly $100k in 12, with lab certificates. These are prices the industry hasn't seen since the early 1990s. And remember! This is
wholesale
. It's a trade-only event.
When the first show at Asia World Expo ends, the pearl auctions start. One of the most anticipated is the September Robert Wan auction. Many of the buyers and vendors alike planned to attend, and additional buyers fly in from around the world for the event.
On the last day of the show an announcement was made. The auction had been cancelled. One buyer from China had met with Robert Wan prior to the start of the auction and offered to purchase the entire auction for an all-cash premium - millions of dollars more than the anticipated auction results. As far as I know, this was a first for Wan

One influencer
rocked the entire Tahitian pearl market, leaving the industry in shock.