Joined

Sep 7, 2010
Messages

1,858
Still exhausting and hard work around here and that shows in my pearl collection. I thought I had moved past consolation purchases but I guess not.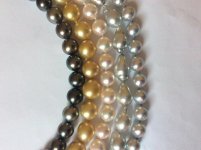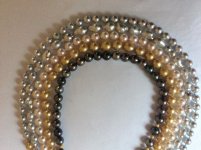 At the top is my older Kamoka strand, then GSSP special, barogue akoya, white Tahitians from the Christmas special and finally blue Vietnamese akoya. Going to give up on getting that deeper blue with pink now. This is second try. Still very pretty, though.
Both Tahitian strand are 18" so they can nestle with the others that are 16" - my preferred length for single strand. Sorry about the quality of the pics. Can't get around to pulling out good camera and Lightroom.
- Karin