Joined

Jan 11, 2014
Messages

447
I confess that for quite some times now (many months), I have been meaning to post some photos.
Some of the strands/pearls I've had for years, some are new to me, and some are new from various vendors/sources.
This may take longer than expected, as the photos seem to be uploading in a wonky, sideways fashion, so I need to tweak them as I discover which ones are uploading oddly.
Here goes!
I adore blue pearls, like many of us on P-G. The long strand is from Aloha Pearls, Tahitian keshis. The white pearl is re-purposed from a set of beautiful 15mm freshwater earrings. Note to self: 15mm earrings are MUCH too heavy/large for my ears!
Blue pendant is from Hawaii, years ago, and is 11x13mm on w/g. Shorter necklace-strands are blue Akoyas wrapped around another strand of blue Akoyas. Pearl earrings are Akoya with very high lustre and gorgeous at 9mm.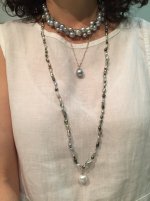 With earring included. Hmm. The earring looks weird; it's perfectly round. I used my iPhone (older version with less than great camera):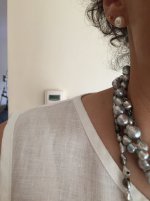 The other re-purposed earring (on yellow gold; the other pendant/earring is on white gold) on a gorgeous "chain" of little Akoya pearls from Cees. The shorter necklace is from Sarah/Kojima, with weensy pearls, a Kasumi, and tiny turquoise beads: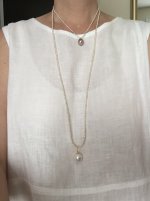 The last VIP sale from PP, there was a pair of gorgeous 11mm+ studs. I asked if there were smaller ones (10mm maximum) but nothing was available. However, the 11mm+ pair became available again, so I jumped at the chance, and had them changed to post and eye/loops. I wear these on hoop earrings, and had the eyes made large enough so that I could also wear them as a pendant. Here, with the Akoya chain from Cees, and with a pistachio Akoya strand purchased pre-loved from one of our P-G members. The pistachio strand is from PP originally, and I restrung it on lime Beaders Secret. It's gorgeous, too!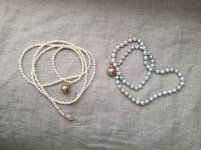 These pearls are
spectacular
!!! I would love a strand of these! Maybe next year there will be some available...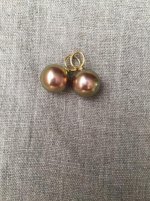 The beautifully sweet strand from Sarah/Kojima and a gorgeous pendant from Pearl Society, the latter of which is a whopper, at 28 x 17.8mm—the lustre and iridescence are stunning in real life. I wear it mostly on a long, antique curb chain that my grandfather gave to my mother: