Joined

Dec 21, 2017
Messages

187
Dear PG friends,
With heavy heart but with encouragement from the very senior members of P-G and Pearl Community as whole, I am writing this post.
I want to tell my experience and warn you against dealing with one well known individual some of us may have dealt with before or dealing with now.
So, here is my sad story of doing business with
Edi from AGUSTUS-collection
(the name of his store on eBay). His company name (I guess one of!) is
Eastern Trade Winds
. His Etsy store is
OrientalEmpire
.
I found him via P-G and his eBay store in 2019, and started buying pearls from him, mostly GSS keshi. At some point, after a few thousand of dollars worth of transactions and my asking for better prices, he offered me a communication via WhatsApp, and told that there he can give me a larger discount, cutting the middle man per se.
I started to buy from him directly, again for a few thousand of $ and without a hitch - quick easy transactions, fast shipping via DHL and getting my pearls exactly as promised. I spent at least $10,000 with him. I had no problems with Edi, knew nothing bad of him, and was happy to continue.
Until.... of the beginning of 2020.
I asked him to find me a lot of very good and very golden SS pearls for my necklace and said my budget was $6000 or so. He started offering me lots, but as soon as I'd say I like them, he would say Oh, it was sold already.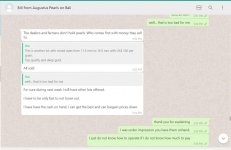 So I told him Edi, I was under impression you offer me pearls you have on hand, but he said no, these are lots and for me to buy them I need to have money from you beforehand. There he mentioned his customer Laura from Florida, who does just that (Disclaimer: he actually sent me a picture of a lady, wearing pearls. Since I have no idea who that lady is, I will not show her picture here. Interested parties of my trusted PG friends and acquaintances might see it upon request).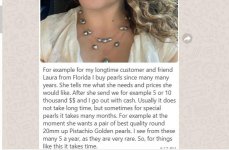 To be continued...
Last edited: