On March 10th, 2010, following the recent debut of Soufflé' pearls by Jack Lynch at the Tucson Gem Fair, Jeremy Shepherd pulled a little bag of colorful pearls out of his pocket and poured them into his palm. I was in Guaymas, Mexico with Caitlin Williams and we couldn't have been more amazed if Jeremy had pulled out a rabbit. They were unlike any pearls I had seen before.
We had met in Guaymas to visit the beautiful Perlas del Mar de Cortez pearl farm and soon we were showing the miraculous pearls to pearl farmer, Douglas McLaurin. Caitlin and I had already picked out a special pearl that we designated for Hisano Takei
and no one else
(later Hisano Shepherd). Jeremy asked us to choose a pearl for ourselves and we did so with enthusiasm, keeping the special pearl a secret when Hisano taught her last class and joined us for the weekend.
These pearls had a direct relationship to Soufflé pearls and the metallic "Edison" pearls that would immediately follow, although we could only guess at the time. An advanced hybrid mollusk and new culturing techniques were pushing the envelope, literally, allowing the creation of enormous pearls by making a larger pocket inside the mussel.
Soufflé pearls had caused a stir, not just because they were hollow after the dried mud nuclei were washed out, but because of intense and unusual coloration and metallic surface quality. These smaller tissue-nucleated cousins, shared their dramatic color profile and metallic nacre.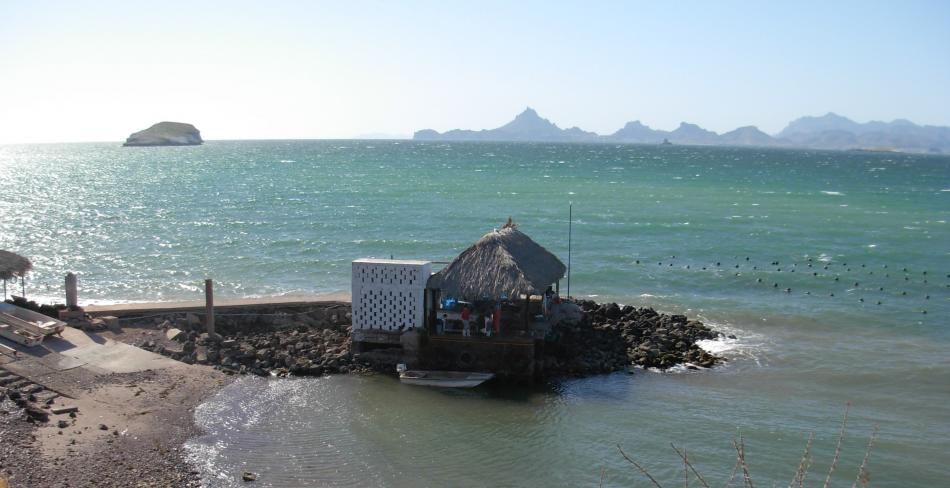 After a great visit to the pearl farm, and much consumption of delicious seafood, it was hard to leave. Hisano and Jeremy flew to Los Angeles and Caitlin and I took the bus to Tucson, Arizona, where my car awaited the drive to San Diego. Before leaving, Jeremy noticed that the bag of pearls was missing. He searched the hotel and he contacted Douglas, but no pearls were found. Assuming the pearls were lost or stolen, we were sad, especially because the special pearl was gone.
A few weeks later, a woman approached Douglas at the pearl farm. She said she had some pearls to sell. Douglas recognized the pearls and asked her where she got them. She said an American left them as a tip. Douglas took the pearls away and sent them to Jeremy.
Once the pearl was back in his possession, Jeremy engaged Hisano's friend, custom jewelry artist Takayas Mizuno, to create a ring worthy of Hisano and the pearl. The pearl itself was remarkable not only for a mirrored surface and beautiful color, but a color-shifting quality that made it the pearly equivalent of a chameleon in different lights and at different angles.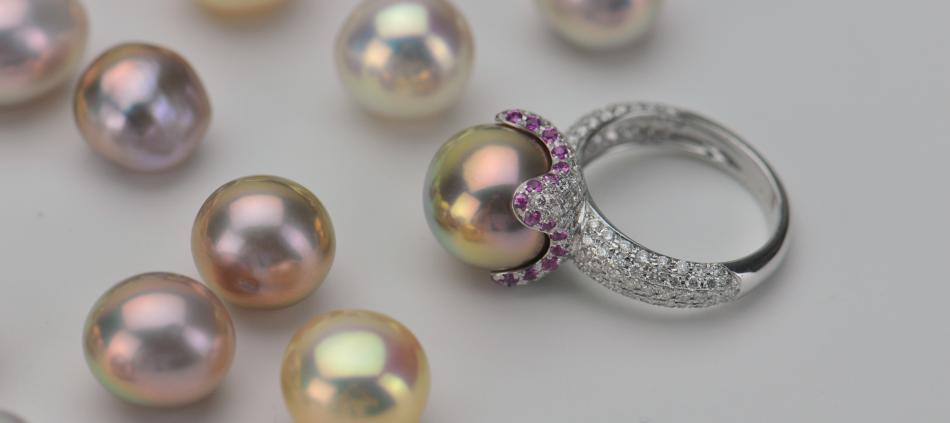 Diamonds and pink sapphires enhance the beauty of the pearl, which became a promise ring, given to Hisano at the top of the Eiffel Tower in Paris, France.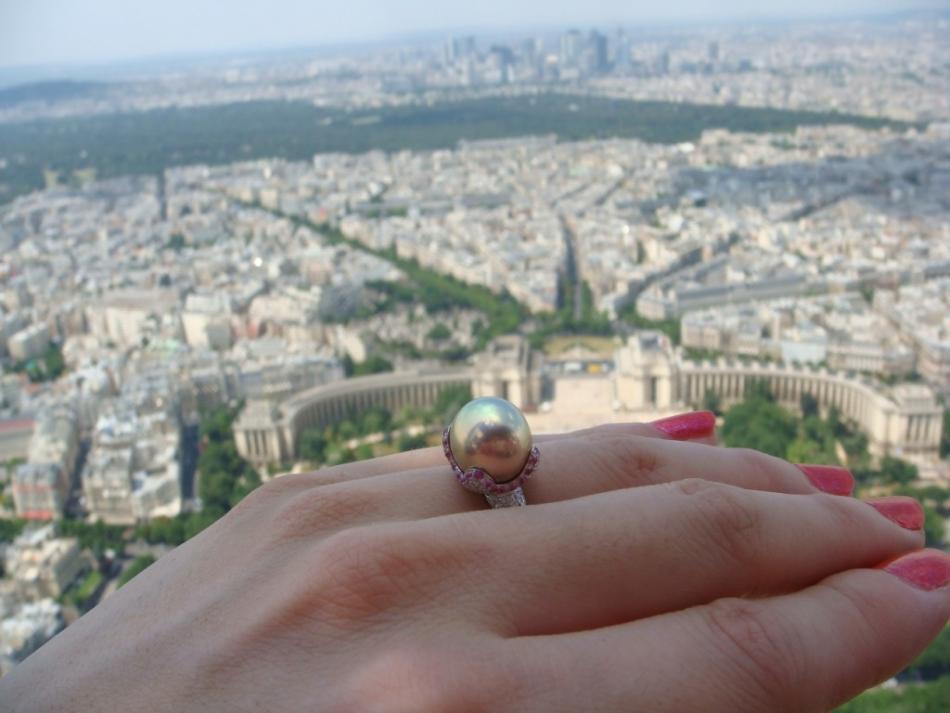 And who doesn't love a happy ending?
Blaire Beavers
Managing Editor
Pearl Guide News