Joined

May 13, 2015
Messages

6,409
RED: Gorgeous pieces. Your photos really do show the rosy glow of the gold SS studs versus the greenish glow from the necklace. Both are gorgeous.
Lighting has been terrible here since the switch to Daylight Saving Time. Anyway, yesterday I wore La Perlagrina with my new mismatched studs from Kamoka. At least you can see the rainbow on the Tahitian drop.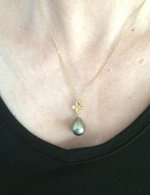 Here's La Perlagrina with my new Tahitian Tin-cup from Kojima. The colors are not coming through.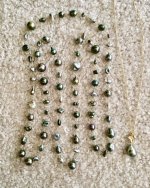 Today, linen and my new freshi-keshi earrings and freshi-keshi tin-cup from Kojima, with ombre' keshi rope and Kasumi pendant from Kojima. Pistachio akoyas from PP. SoC ring, but I forgot to photograph it.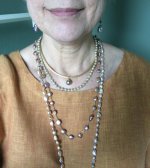 I had layered everything up with ripples and Everything Bagel rope, but it was a bit too much all at the same time. It would have worked for Ruckus, but was too much for work.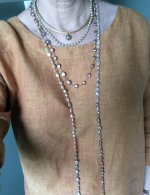 The freshi-keshi tin-cup is 26 inches, and I think I'm in love with that length. It hits just right on my chest and curves in a perfect parabola.
Last edited: