Joined

Aug 30, 2012
Messages

408
As rich a resource as this book is, the information given on the distribution of P. maculata is erroneous. In fact, distribution is limited to the western Pacific region, mainly in French Polynesia and the Cook Islands, which makes up less than 10% of the coastal regions of the Pacific Ocean.

http://skaphandrus.com/en/marine-species/distribution/species/Pinctada-maculata

I couldn't help but notice one of the stations marked on the chart is located at Rusty and Bronwyn's farm in northern Australia. I'm not sure of the biomass, whether plentiful, rare nor it's viablity for pearl culture. Likewise cannot find a single source to suggest P. maculata occurs anywhere along the North, Central or South American shores.
Maybe an omission (typo) from the original text of Elizabeth Strack (she wrote the introduction...).
The distribution as per FAO (Kent Carpenter & Volker H. Niem) is indeed Western Pacific
and
adjacent areas of the eastern Indian Ocean, from Cocos (keelin) Islands to eastern Polynesia: north Japan and south to northern New Wouth Wales, Kermadec, Norfolk and Lord Howe islands.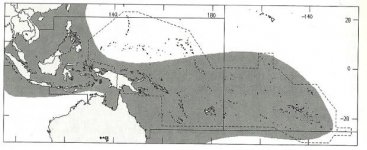 As for skaphandrus.com, maybe some of the contributors made incorrect reports? (Mauritius really?...)
Last edited: