Hisano Shepherd's
little h
jewelry brand made a smashing debut at the Design Center of the JCK Las Vegas Show. If you have seen her work, you know that she is a stickler for the details. Every bit of her talent, taste and tenacity were evident in the sparkling displays.
Instead of looking like a newcomer, Hisano's presentation included placards for her jewelry "featured in JCK Magazine", receiving the MJSA Vision Award and the Cultured Pearl Association of America's Orient Award, and a photo of a major celebrity wearing her jewelry. And how many designers, new or established, can claim two industry awards in the same year?
Let's get to the photos. This first one is literally down to the granular level. Tiny grains of quartz in the real geode and tiny diamonds in the
Finestrino
pearls. Finestrino means "little window" in Italian and buyers were delighted with the tiny gems peeping from within.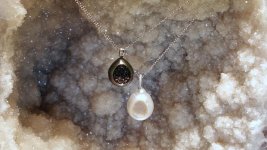 A real slice of geode combined with a Tahitian Finestrino pearl lined with diamonds. Organic, yet refined!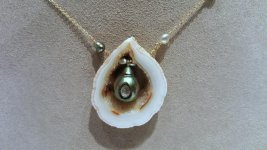 These
Geode
earrings, sitting atop a little h card, are simply irresistible. Lovely peridot lines baroque souffle' pearl Geodes.
Each one-of-a-kind piece uses the most luxurious and sought after pearls in the world - Souffl?, Tahitian and South Sea - that are then sliced down their axis, bored and polished to a smooth concave filled with carats of colorful gemstones including natural-color sapphires, rubies, peridot, amethyst, seed pearls and black and white diamonds. The effect is a stunning interpretation of a natural-forming geode.
?It?s a romantic notion that the interior of a pearl can be filled with luscious gems. The techniques used to create these collections require such precision and are really groundbreaking when applied to something like a pearl, creating a new dialogue in modern jewelry,? says Shepherd.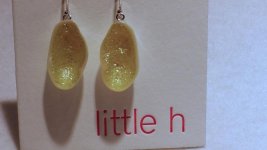 And here is a closeup of the tiny faceted gems.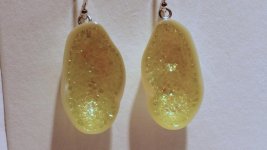 Next up are two photographs that were taken from designer displays featured in the JCK press lounge. Little h was shown alongside Galatea and Mable Chong. First up, the exquisite carved souffle' Finestrino earrings lined with teeny tiny pearls. The quality of the pearls is outstanding, inside and out.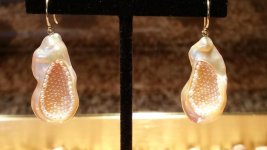 And the MJSA Vision Award ombre sapphire Geode earrings.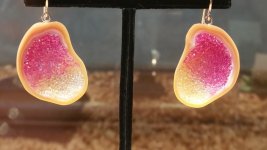 little h was also featured in the fabulous pearl displays at the CPAA booth and in a beautiful centerfold advertisement in the JCK supplement CPAA Pearl Book, sending a lot of traffic to the booth. The cherry on top was the attention Hisano received from costume designer Patricia Field, at a JCK fashion event. Field styled her modern bride look with pearl Geode earrings that she called the ?Pi?ce De R?sistance? of her five looks.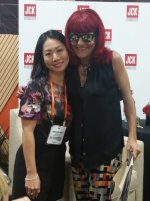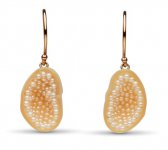 And still, there are so many pearls to show. This lovely Geode pair is lined with amethyst.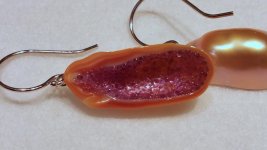 This close-up view of delicate gem ombre shading is too luscious not to share, as is the following pair that have tiny white pearls sprinkled in amongst the gems...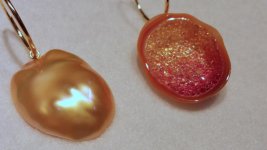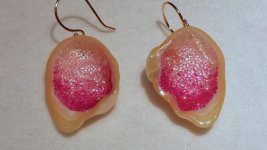 White diamonds in white Geodes.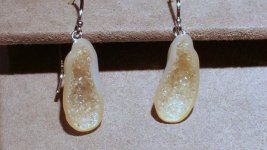 Rose gold was meant for the deep blush of this fruity Finestrino pendant, shown in a breathtaking group of jewels.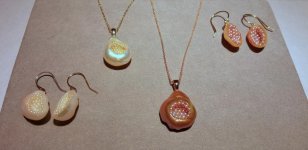 Here is a little Sea of Cortez pearl riding shotgun with two diamond-lined pearls.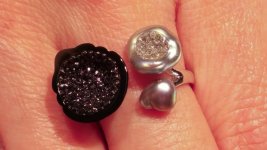 And finally, the seriously organic rubies.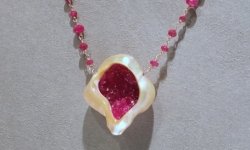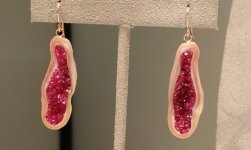 No one can do it alone and Hisano was fortunate to be able to borrow the skills of John Dwight a talented show veteran who knew what to bring and how to set up and take down the booth each day. John Inglese completed the show team and can be seen standing watch in front while Hisano and John Dwight pack up at the end of the second night.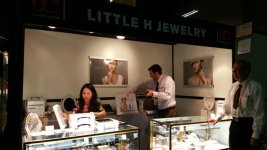 When I first saw Hisano's
Silhouette
line of pearl jewelry with little precious metal silhouettes cut out in baroque Tahitian and South Sea pearl shapes, I immediately shared them with my friends in the editorial trade press. We all encouraged Hisano to make a line to sell wholesale, where she could make a name for herself in the jewelry industry and a place in the hearts of women everywhere.
Ladies, get ready to wear little h!
You can see more at the little h website
www.littlehjewelry.com
And if you want to share in the show experience, here is a rough video of the little h jewelry showcases. As the video starts, the first pearls on the right are from the Silhouette line.
Blaire Beavers
Managing Editor
Pearl Guide News