Joined

Aug 11, 2019
Messages

362
I wanted to start a thread for myself here. I've been learning about pearls since last August, courtesy of Pattye's stringing kit and all of your generous info on PG.
I may collate some of my earlier projects here later, some as "what not to do." Haha!
In the meantime I think we are much in need of some diversion, so I thought I'd post pics of two newer things I'm working with. One is a string of small Tahitians that some of you have seen before. I'm currently busier with fiber projects rather than with jewelry or pearls, but I decided this week that wearing some of the Tahitians would cheer me up. So I strung them on elastic today, provisionally. Also I received a really big pearl pendant last week which I'm intending to wear soon. It already has a bail, so I'm deciding how to wear it around my neck. Suggestions are very welcome—I prefer longer necklaces, since I like to see the pearl I'm wearing!
So I hope y'all will enjoy these images. Nothing spendy or spectacular, but pretty and fun.
I wish the orient on the huge pearl would show up better!
to all,
Cece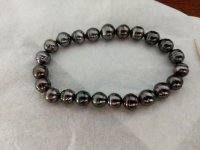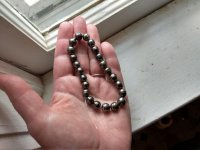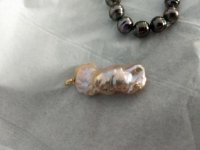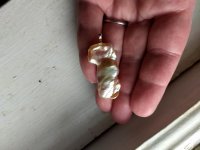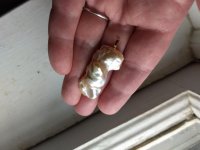 Last edited: