Joined

Aug 30, 2012
Messages

408
an article from the February issue of Professional Jeweller.
Professional Jeweller's Kathryn Bishop discovers how pearl jewellery design is evolving in a trend report on new interpretations of a very classic gem.
The future of jewellery design and pearls are not the most harmonious of pairings. Why? Because pearls have for so long retained an air of grandma, of twin sets, the 1920s and Country Living magazine.
But such presumptions are shifting, as the pearl loses these long-held connotations and becomes just like any other gem ? a stone to experiment with, to set in unusual ways, and to make wholly suited to futuristic jewellery design.
Jewellery designer Sophie Breitmeyer believes that jewellers? attitudes to pearls need to change in order to take them from fuddy duddy to fresh. ?It is not the pearls that have the bad reputation, it is how they have been previously worn and what they have represented that has made them dated,? she explains. ?It is up to designers to use pearls in a modern way and keep them relevant.
Shaun Leane is a great example of a designer using pearls in a modern way with his Tribal Deco pieces.?
Breitmeyer notes that it is the way in which pearls are styled that makes them new, exciting and more modern. This, she says, has become the key way to market pearls ? by using them in an unexpected way in jewellery design.
Bec Astley-Clarke of retailer Astley Clarke agrees, noting Solange-Azagury Partridge?s Ballcrusher ring as one such innovative use of South Sea pearls that sets a benchmark for pearl jewellery today. Astley-Clarke recognises, also, that there has been a shift in the kind of design that consumers of pearl jewellery desire today. ?[Consumers shop for] jewellery that offers a point of difference from traditional pearls ? it?s all about playing with colour combination, pearl variety and metal finishes, with a modern design approach,? she says. ?With a cutting-edge, fresh approach to design, pearls now appeal to a wider audience and can be worn in myriad ways.?
The use of coloured pearls, or combining pearls with a shock of colour, also adds certain modernity to these round little gems. Pink pearls have been in strong demand at pearl jewellery supplier London Pearl, says managing director Daniel Vecht. The company has also created a richly colourful range, in homage to The Duchess of Cambridge, called Catherine?s Collection, featuring splashes of colour from gemstones and pink leather to complement the lustre of white South Sea and Tahitian pearls.
At Jersey Pearl, adding a pop of colour has been a winning move that has given pearls a new appeal. The brand has enjoyed great success with its Joli range of brightly coloured and metallic leather bracelets that are knotted in a bow and topped with a white freshwater pearl. ?Contemporary, engaging design, has allowed the pearl market to grow,? explains Jersey Pearl?s Martin Beesley. ?The market has evolved as demand for pearls and [as a result] their presence throughout the fashion, jewellery and celebrity press increases.?
Fashion Forward
Indeed, pearls have adorned some of fashion, film and music?s most current stars, moving them very much into the mainstream and the minds of a whole new set of consumers. With this, the public?s perception of pearls has evolved.
While Kate Middleton has become an elegant poster girl for white pearls ? she was photographed wearing pear-shaped pearl drops during the Queen?s Diamond Jubilee, and classic studs while watching the Olympics ? pop stars such as Rihanna and Lady Gaga and actresses like Sarah Jessica Parker and Zooey Deschanel have given pearls an edgier makeover.
Rihanna performed at the Victoria?s Secret runway shown in November last year wearing a multi-row pearl choker and pearl-framed sunglasses, teamed with a vampish black dress. Lady Gaga has most recently worn gobstopper-sized white pearl drop earrings and a bold pearl bracelet teamed with a neon orange mini dress, much like the bold, bubbling pearl collars and wristwear on the SS13 catwalks at Chanel.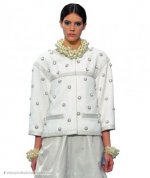 One woman repeatedly cited as raising the profile of pearls is Michelle Obama. She is a female continuously in the spotlight, whose each and every outfit is documented and broken down in fashion blogs and in magazines ? the American equivalent of Kate Middleton in many respects.
For Diane Hall of Dower & Hall, a brand that uses grey and white pearls heavily in its seasonal collections, Obama comes immediately to mind when she thinks of today?s trendsetting pearl wearers. ?She is now one of the world?s style icons ? incredibly stylish and well presented, with more often than not, a beautiful pearl necklace finishing off her immaculate outfits,? says Hall.
Harry Brown, co-director at retailer Chisholm Hunter, also points out that Obama has become a pearl style icon, which in turn has lead to more interest from high street shoppers looking for pearl jewellery that fits with current trends. ?Pearl drop earrings and multi-stranded layered necklaces for a more dramatic look are popular, along with products from fashion brands such as Thomas Sabo, [which] women influenced by fashion trends are most likely to buy,? explains Brown.
Fine jewellery retailer Nigel Milne notes that the style of pearl jewellery that customers are buying into has gone back to the future somewhat, with a return to once-popular designs, but worn in a new way. ?After a gap of more than 10 years we are being asked for multi-row choker necklaces and many clients are bringing their own back to us for re-stringing and re-fitting,? Milne explains. ?It is now much more fashionable to wear multi-row pearl necklaces at the base of the neck, rather than higher on the neck.?
Chrissie Douglas of Coleman Douglas pearls concurs that the ways in which pearl jewellery is being worn have changed. No longer is it just for dressing up; pearls today are there to be layered, mixed?n?matched or worn with everyday fashionable jewellery. ?Customers are opting for a must-have piece and mixing it with their existing jewellery, rather than buying sets [of pearls],? she notes.
For Astley-Clarke and Bradby, it is also about how the pearls are worn. ?We encourage our customers to Go Precious Everyday and wear their pearls with everything from a LBD to off-duty jeans and a T-shirt,? Astley-Clarke states.
At pearl supplier Euro Pearl, which offers three sub-brands of pearl jewellery from its fashion-led silver line Perlissimo through its premium Yoko range, sales manager Justin Simons has noted a shift in the demographic of pearl shopper towards more fashionable younger women; a change that will potentially mould Euro Pearls? future collections. ?We?ve noticed a younger, more fashion-conscious consumer enjoying pearls and I expect to see more contemporary designed pearl jewellery with a younger audience in mind during 2013,? he says.
Bradby, meanwhile, describes the way that pearls can be worn in a much more informal way, pointing out how Sarah Jessica Parker styled a long string of pearls with a grey T-shirt and jeans while at the Sundance Film Festival. ?My perfect look,? says Bradby.
Marketing Pearls to Modern Clientele
But in this modern age of shopping, how are retailers and pearl companies marketing pearls to customers. Are they playing on tradition or keeping things wholly contemporary?
?The best marketing for pearls is to use them in a really unique way,? states Breitmeyer. ?I don?t think pearls need to be marketed to customers, however how the pearls are worn, and their settings, making them new, exciting and more modern.?
At a customer-facing level, the use of social media has helped retailers to position pearls to tech-savvy shoppers, who will scout online sites looking for quality products with designs that speak to them and feel relevant.
For retailer Chisholm Hunter, Facebook and Twitter have become key marketing tools. ?Our customer base has grown and become more diverse and with this we use various mediums to market [pearls],? explains Brown. ?That?s the beauty of technology ? we can instantly message our customers via Facebook, Twitter and our online offering.?
Miranda Raw of pearl trade supplier Raw Pearls notes the rise in sites like Pinterest, which has many pages dedicated to celebrities wearing pearl jewellery, as something that retailers and designers could emulate by creating their own Pinterest page filled with images of their own pearl jewellery designs or photographs of inventively worn pearls. It all works to inspire consumers shopping for pearls.
At Winterson Pearls, a London-based online pearl retailer, investment has been placed in the presentation of products to make them as clear and innovative as possible. Winterson Pearls director Andrew Fraser describes the kind of tools the company uses to market its product: ?As our business is mainly online, we have introduced high-resolution video to some of our most popular pieces and can really see the impact that it has made.?
Film has also become a marketing tool for brands such as Dower & Hall, whose white and grey pearl jewellery was worn by Dame Judi Dench when she played M in the latest James Bond movie Skyfall. Coleman Douglas Pearls has also supplied pearl jewellery to films and TV shows such as Miranda, Lewis, The Debt and Chalet Girl.
Last edited: