Oh, I'm so sad to read of Cleopatra's passing.
I just showed her photo to my daughter a couple of days ago and she thought she was beautiful, too.
Well, I had an interesting day! My H and I went to the East Coast Gem, Mineral and Fossil show in Springfield, MA. (It continues tomorrow and Sunday if anyone wants to go, and there won't be any tax charged the next 2 days.) I wore my Fijian pearl on my mother's box chain, and while I was standing at a booth with my husband, I was approached by a P-Ger named Stephanie, who asked if I was wearing a Fijian pearl! How rare is that-- meeting someone from the forum who recognizes Fijian pearls! We had a nice chat. She said she doesn't post much but maybe she will visit the forum soon.
Here it is, photo taken just a few minutes ago. It's picking up the green from my top.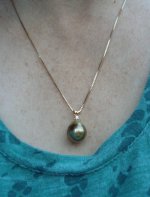 Last edited: