Tish and Wes Rankin of Pacific Coast Pearls were showing an amazing array of natural pearls at the GJX Show in Tucson, AZ, earlier this month.
So let's skip the jewelry this week and go straight for the incredible color of the wild abalone pearl!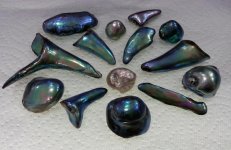 And we're letting you in on a little trade secret -- nothing shows pearl color better than a white paper towel!
You can see more of their pearls and unique jewelry on their website:
www.pacificcoastpearls.com
Blaire Beavers