Joined

Aug 26, 2005
Messages

3,412
Book Review
"Pearls: A Practical Guide" (2021) by Wendy Graham
The Crowood Press. UK. 96 pages
​
It´s not every day that we get a "new pearl book", since many believe that everything about pearls has already been said before (who said that?!?!?) or has been covered in absolute detail by many other books produced in the past. But the "pearl scene" does indeed change with time, there are advancements in the field of pearliculture, there is creativity at the hands of pearl farmers and there are new "pearl hybrid mollusks" that open up an entirely new crop of pearls to the pearl markets and the loyal lovers of this unique organic gem…and because of this we will always need and enjoy new books on the subject.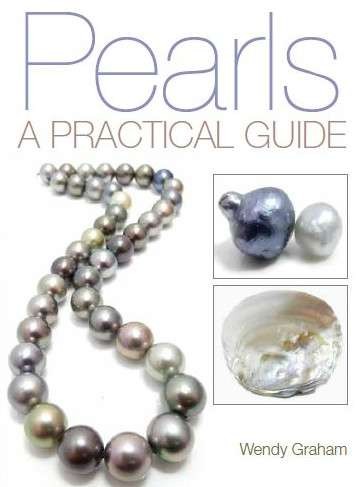 It is under this perspective that I have reviewed and enjoyed Wendy Graham's book and let me tell you some reasons why I now have it on my desk for daily use and consultation. I have 5 books always on my desk: Mattlins' "The Pearl Book", Newmann's "Pearl Buying Guide", Strack's "Pearls", Southgate & Lucas' "The Pearl Oyster" and Kunz & Stevenson's "The Book of the Pearl". Of course, I own many, many more books! But these are the ones I always use for a reference and I prefer to use the first two (and now, on my list…why?) because I can look for information faster and more efficiently.
And although this is not my case: these shorter books are perfect for newcomers since they comprise the most relevant information about pearls without having to use different books or sources. And even if I am what many consider to be a "pearl expert" …my main interest and knowledge lies in the fields of biology, aquaculture, pearl grading, sales and history than in jewelry making, pearl processing and knotting.
This book comprises the following chapters:
Pearl basics: With all the basic information required to have about mollusk biology and pearl biology 101, the basics about the different pearl shapes and types.

From Farm to Customer: that discusses pearl farming and all the technicalities regarding the production of pearl mollusks, the harvesting of pearls, their processing…even how to measure them.

Buying Pearls: one of the most important chapters for all pearl lovers, since we all want "the best bang for our bucks" and I particularly like how the author covers all possible tracks on how to purchase pearls, from trade shows, auctions, garage sales and even TV and online sellers. This chapter also covers the "Seven Pearl Value Factors" and imitation pearls. Does not skip a beat.

Drilling Pearls: This is probably one of my favorite chapters because I always had a lot of apprehension when drilling pearls and you would want others to understand how delicate this process can be and it is covered in detail, without overcomplicating it. Some good tips are presented here too.

Setting Pearls: another remarkably interesting chapter for me, since it falls under an area that I never fully specialized and having these tips and information comes very handy for me.

Knotting Pearls: this is another interesting chapter for me, since it contains all the basics and pointers required to start your pearl necklace stringing or re-stringing project.

Chapters 7 through 10: feature the most important and basic pearl groups, such as Akoya, Tahitian, South Seas and Freshwater.

Other Pearls: this chapter covers some of the most common "rare" pearls, both natural and cultured, such as abalone, conch, scallop and Cortez pearls. It is a quick reference guide for the unusual pearls.
So, do I recommend the book? Definitively. It is professionally written, concise, full of information, with good photographs and good paper quality. It will be on my desk, and I do hope the author, Wendy Graham, will issue extra editions to update the information in the years to come.
The book may be purchased from here: www.pearlsapractical.guide
Reviewed by Douglas McLaurin-Moreno on March 20, 2021.
Last edited: