Here is an amazing natural abalone pearl ring from Tish and Wes Rankin of Pacific Coast Pearls. The lighting wasn't the best, but you can get an idea of the pearl's spectacular beauty.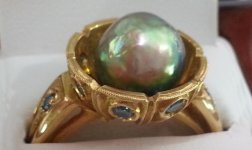 And here is a photo by David Rankin from their website,
www.allnaturalpearls.com
. The setting is great, not only for attractiveness, but for protecting the pearl from daily wear and tear.
11mm abalone pearl, 18K gold with colored diamonds. Round abalone pearls like this are beyond rare.
The Rankins have a large inventory of natural pearls, but they have a enormous selection of abalone pearls. I highly recommend visiting their booth at the GJX show in Tucson.
Blaire Beavers