Joined

Dec 28, 2016
Messages

160
Hi everyone
Been MIA for awhile... life gets in the way
I've spent the last few weeks working on this strand (with a vacation in between) and wanted to share here. It's not my original design; it's inspired from a design I saw on Etsy, but cost over $700 Canadian. I could get a pretty amazing freshwater or akoya strand for that price, so I decided to make it myself.
It took a bit of time to get the right stones (especially ordering from online suppliers), then to plan out the layout, and knot on Beader's Secret. Some of the stones were from the local gemstone I attended in March. This necklace is 72" long and can be worn doubled, tripled and quadrupled. The first session of knotting was seriously frustrating, since I probably had over 8 arms' length of thread to work with and it kept getting looped around itself. Once I got about halfway it was much easier and I was working very fast. I've definitely gotten lots of knotting practice with this strand since I estimate there are over 400 beads in this necklace.
I wanted to call it the "Mermaid Rope" because the colour scheme of silvery blue and seafoam green reminds me of the sea. The iridescence and orient of the pearls, along with the blue flash of the moonstone and the milky blue flash of the crystals remind me of mermaids.
All beads used: 9-10mm baroque silver-blue Akoya, 5mm blue flash moonstone rondelles, 2-3mm topaz coloured crystals, 3-4mm opal-champagne coloured crystals, tiny 2mm silver beads, faceted aqua glass chicklets and faceted oval seafoam green stones - I don't remember what kind these were since they weren't labeled on the price tag but placed in a section with other similar gems.
I got a bit overzealous tightening the last few knots and one of the threads snapped... imagine my
fearing I might have to redo the whole thing or at least improvise to make the broken end work. Luckily the knot did not come undone and beading glue sealed the deal.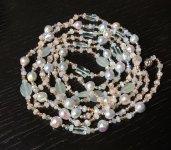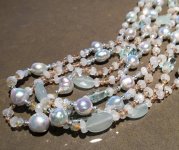 My next project is trying to restring my mother in law's pearls from my husband's grandmother...it is a TRIPLE GRADUATED STRAND with tiny 2-7mm pearls but the kicker? She handed me the pearls in a bag. Yep, the necklace was broken at some point and I get to sort them out. And the clasp? Completely in pieces and not reusable. The pearls are clearly faux pearls of very low quality. They look dirty and I don't know how best to clean them. They have sentimental value, but I think this will take a lot of effort to restring. Luckily she said I can do "whatever I want" to reconstruct the piece, so maybe I'll build it into a mixed-sized pearl strand. I'm not sure if I should even try to knot in between if I'm making one continuous strand. Any ideas?