Last February, as I made my way through the new JCK Tucson show, I almost missed discovering Isabelle Langlois. Fortunately, on my way out, I slowed down to scrutinize a display case and saw an amazing pair of pearl earrings.
The pearls were inset into what appeared to be swirls of pink shell enamel. I asked if I could take a photograph and Bruno, Business Development Manager for Isabelle Langlois, said that they were too new and he wouldn't be able to get permission while I was at the show.
After I explained that I was in search of special pearl jewelry for Pearl Guide News, Bruno told me he had just the thing and brought out some jewelry rolls. Based on what I had seen, I was hopeful, but the earrings were the only pearl jewelry in their display. Surprise! Bruno unrolled and set before me pieces from the
Etoile De Mer
collection.
Here was an underwater fantasy of gold, gems and pearls. Bruno explained that there was also a jewel with a real starfish and he offered to send more information on Isabelle Langlois.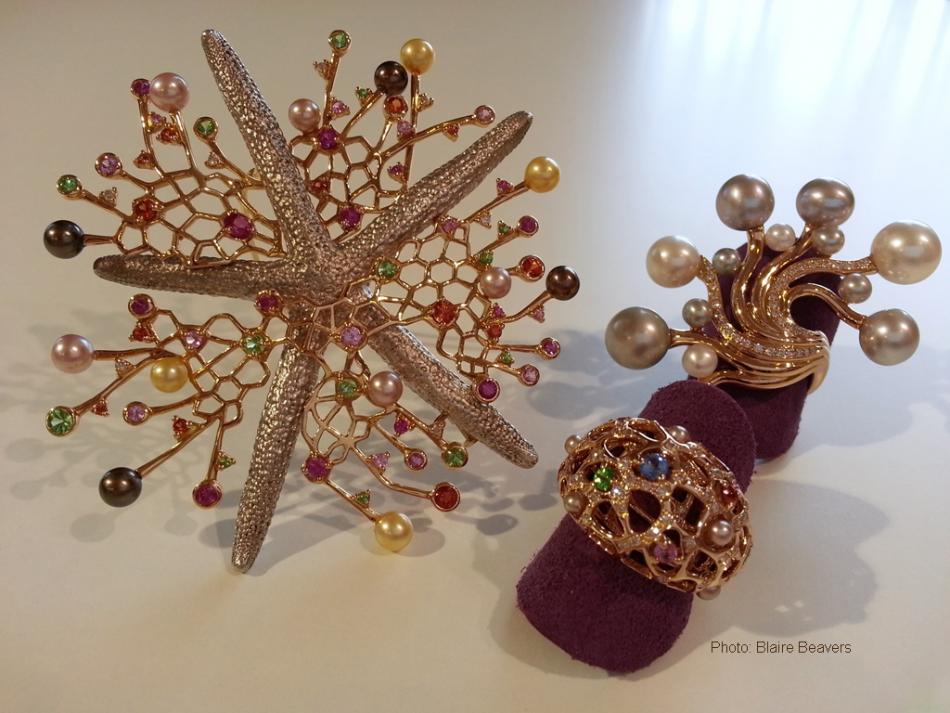 First, a little family history:
Isabelle Langlois comes from a long line of people working with precious gems. Her grandfather René started his apprenticeship as a gem cutter in the family workshop at age 14. He left to start his own gem trading company in Paris during the depression. Although times were hard, the company grew, eventually becoming one of the top ten European gem suppliers to the world's finest jewelers, including Cartier and Van Cleef & Arpels.
Isabelle's father, Daniel Piat, joined the company. Although he had been an engineer, he embraced the world of gemology, founding the French association, "Association Franacise de Gemmologié in 1961. He traveled to Asia, South America, Africa and the Middle East; procuring gemstones, and even purchasing mines on behalf of the company.
Isabelle's younger brother, Emmanuel, is now in charge of the family company, where they still supply the finest jewelers of the Place Vendome.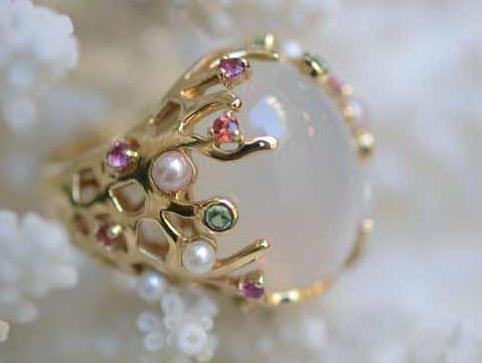 Quoted from their brandbook:
ISABELLE - The designer
Since childhood, Isabelle has been an avid drawer and visual artist sketching flowers, butterflies, and especially jewels. As a young schoolgirl, she drew and created her first jewel with crumpled metal and colored glass cabochons.
A born artist, Isabelle loves to juxtapose colors recreating subtle nuances and surprising distinct ones which Mother Nature can offer: the impeccable coloured array of a bouquet of cut flowers, a coral branch, or a butterfly wing. Isabelle's fascination for the treasures of Mother Nature has never failed to inspire her and remains her primary palette of creativity till this day.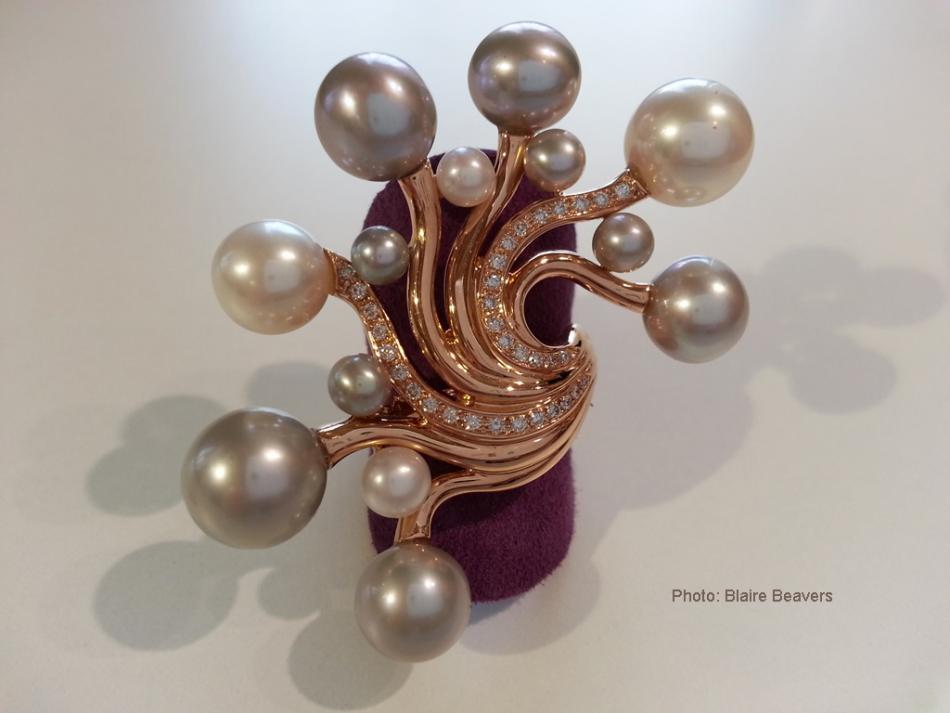 Bathed since birth in the fascinating world of precious stones and inspired by her family saga, Isabelle joined a high jewellery workshop and worked hand in hand with the biggest Names of Place Vendome, from 1982 onward.
In 2010, Isabelle opened her boutique shop at 12 rue de la Paix, nestled in a typical Parisian courtyard, paved and flowered, in the very heart of the French Haute Joaillerie quarter. As of 2013, Isabelle Langlois Jewelry can be appreciated in 24 countries around the world.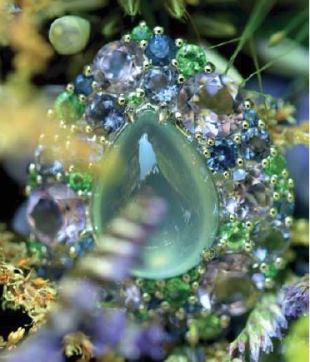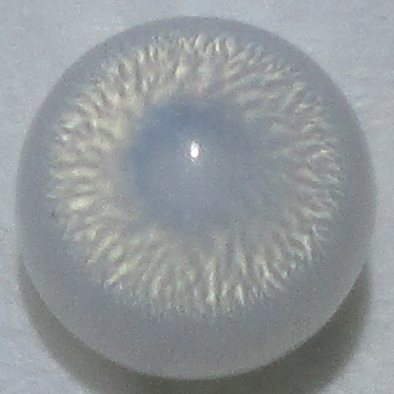 Isabelle on ETOILE DE MER:
Starfish are fascinating creatures of elementary shape, admirable contortions and surprisingly rich colour schemes. I have created a collection made of coral, gold, pearls and coloured stones. The ocean floor contains as much as it promises...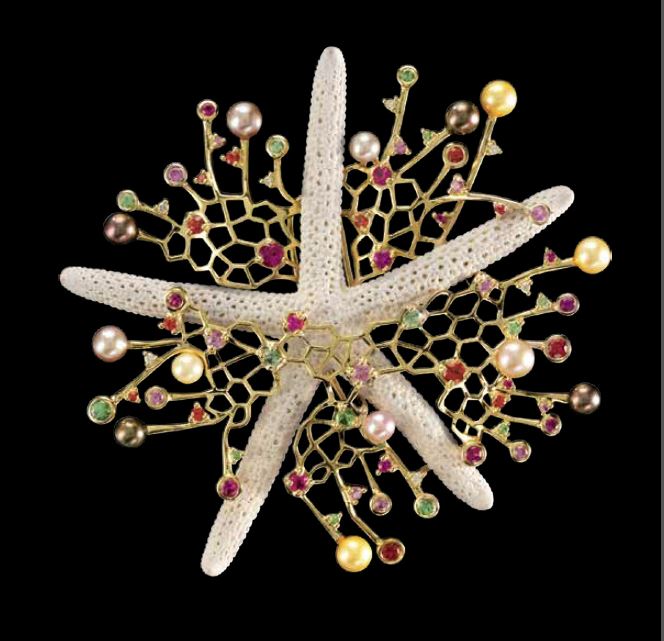 To see more photos of Isabelle's jewelry, go to:
www.isabellelanglois.com
Coming Soon to
Pearls of the Week
- the Isabelle Langlois earrings that started this story. I was able to get a photograph at the Las Vegas
Luxury by JCK
show.
Blaire Beavers
Last edited by a moderator: