Autore jewelry designs are innovative, lavish, and do not shy away from color. This bright green Tahitian pearl pops amongst a background of brightly colored gems.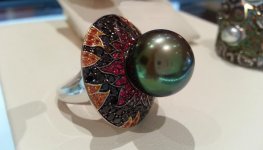 I will be sharing more dazzling Autore designs photographed at the Couture show in Las Vegas - stay tuned.
www.pearlautore.com.au
and on Facebook
here
.
Blaire Beavers