Their website says it all: Magnificent Pearls - Exquisite Coral. The Assael display at the Couture Show in Las Vegas was a museum-worthy exhibition of the finest examples of gemstones, pearls and ethically-sourced coral.
The people were just as magnificent as the pearls, allowing us to acquire many candid photos to share this year.
Today we start with these intensely green Tahitian pearl and jade earrings. The perfect choice to commemorate an important milestone -- or just because they are irresistibly lovely.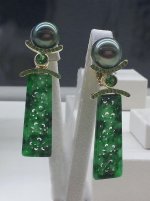 And "Sister" golden South Sea pearl and jade earrings. It's hard to describe the way I felt when I saw both of these sets of earrings - a kind of pleasurable tugging on my emotions. The texture and glow of the jade was in perfect harmony with the whole.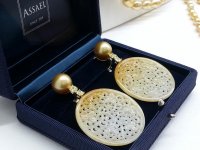 The video intro eye candy is worth the visit to
www.assael.com
. You'll want to stay to browse the beauty.
Blaire Beavers
Managing Editor
Pearl Guide News