Back in 2007, members of the GIA Alumni Pearl Tour happily invaded the private grading rooms of Paspaley, in Darwin, Australia, where we were shown the special pearls.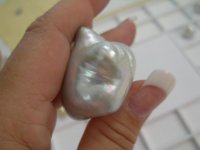 This pearl was amazing, not only for it's size, but for the orient shimmering on the surface. I have long imagined how I would set it as a pendant with a very long chain so it could be touched and admired. In wilder fantasies, I imagined how magnificent it would look atop a scepter!
You can see their South Sea pearl jewelry collections at
www.paspaley.com
- My favorite is the Lavalier Bleu.
Blaire Beavers