Joined

Aug 30, 2012
Messages

408
As seen here
.
Australia: Nature's finest
By Karen Pasquali Jones, Editor, Friday magazine Published: 14:21 November 11, 2012
Finest Worth more than a million dollars, the Paspaley Pearl is considered the most beautiful in the world. Friday editor Karen Pasquali Jones braves seaplanes, boats and crocodiles to reach one of the most remote places on earth in search of the most perfect gem nature can offer
Glancing down, I smiled. In my hand, I was holding a million dollars. But it wasn't a fistful of used, crumpled or torn notes. Instead, glistening against my skin, the light bouncing off its pink lustre, sat a rare white, perfectly round, unusually large gem. The Paspaley Pearl.
Considered so beautiful, the 'Pearl of Pearls' is usually only glimpsed in public displays alongside other rare gems, La Peragrina, the 500-year-old pearl famously given to Elizabeth Taylor by husband Richard Burton, and the Hope Diamond, or closely guarded by security men working for the Paspaley family during their private exhibitions.
Yet here I was, rolling it around between my fingers bouncing it up and down as strands of exquisite pearls were placed around my neck. Welcome to Darwin, Australia, home to the biggest and one of the most famous pearling companies in the world. "Do you like it?" Geraldine Atkins, manager of Darwin's Paspaley Pearls store, asked, straightening a long opera strand of white pearls worth A$70,000 (Dh266,637).
In the mirror, the graduated, impeccably strung strand, which hung almost to my waist, looked amazing. But its beauty paled compared in comparison to the natural, unset Paspaley Pearl, which was harvested in 2003 from the company's farm on the Kimberley Coast in the northern most region of Western Australia.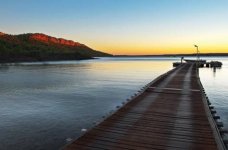 Plucked from a Pinctada Maxima pearl oyster in the South Sea, it has since been kept in the Paspaley family's private collection, presumably in the hope that it will one day be joined by an equally perfect companion.
Sadly, so far they haven't yet managed to discover another rare beauty, but it's not for lack of trying. Paspaley prides itself on producing the most beautiful pearls in the world – and now I was joining them on the ultimate adventure to search for the perfect gem during the pearl harvest.
So handing back the Paspaley Pearl, I steeled myself for my next stop: Kuri Bay, one of the most remote and unexplored destinations on earth. A birthing ground for migrating humpback whales in August and September, it's the historical site of Australia's first cultured South Sea pearl farm.
Originally farmed by Japanese pearlers – Kuri Bay was named for Tokuichi Kuribayashi of the Nippo Pearl company in 1956 - it was eventually taken over by the Paspaleys, or Paspalis as they were named when they first came to Western Australia. Fleeing Castellorizo, a Greek island, during the First World War, Theodosis Paspalis settled there with his family, living alongside Aboriginal inhabitants and Asian pearl fisherman.
His son, Nicholas Senior, learnt the pearling trade, diving for mother of pearl shells to be used making buttons and changed his name to Paspaley. Forever searching for the perfect place to grow pearls, he ended up in Kuri Bay, trying to better the Japanese's mixed luck and pioneered new methods and conditions for the delicate pearl oysters. His son, also called Nicholas, mortgaged his father's house in 1973, and bought a modern boat to run the operations, after being told by him to make the farm profitable or shut it down.The rest, as they say is history. With 20 farms and a 75-year-old history of producing the best pearls – the company is so fussy it only keeps 1 per cent of the pearls to use in its jewellery collections – Nicholas's son James is now executive director.
Kuri Bay was still a working pearl farm until December 2011, but the Paspaleys now use it for VIP clients and a luxury retreat for paying guests who want to get away from it all. There's no phone, no TV, no wi-fi, and no roads in or out.
Rugged, remote and rumoured to be life-changingly beautiful, Kuri Bay is only accessible by sea or Grumman Mallard seaplane.
I almost didn't go. Terrified of travelling in anything that doesn't have business class, lounge access and a runway, I didn't think I'd be able to stop hyperventilating or crying for long enough to actually step inside the impossibly tiny-looking plane's doorway. 'I've seen Flying Doctors on TV,' I told myself, trying to find some courage. 'Landing in water in the middle of nowhere is normal out here.'
But then I heard the farm has pythons, box jellyfish with four-metre tentacles, and a resident crocodile, Snappy, who likes to sun himself
on the jetty – the only way onto Kuri Bay.
"Snappy's only two metres big," Richard McLean, Paspaley's senior pearling advisor, and our guide, smiled. "And he's never eaten any of our guests yet."
Still, that crocodile was bigger than me, but Richard insisted I'd be safe. "There will be three men with you at all times," he promised and I agreed to go. Besides, the amphibious plane we'd be travelling to Kimberly in, which was built in the 1940s for use during the Second World War, had once belonged to Christian Dior to travel along the French Riviera.
How could I resist such glamour and history? So taking more than a dozen, deep breaths, I clambered inside, and made myself think of pearls as we took off.
Two hours later, after soaring over ochre cliffs and coral reefs, we eventually started our descent. Of course, we weren't going to be landing on tarmac, and so I surreptitiously got into the brace position as the Mallard splashed down at Vansittart Bay, one of Australia's largest pearl farms, up the coast from Kuri Bay. Needless to say, it was the smoothest touch down I've ever known and the water rushing up to the windows was really exciting, not scary at all.
All the pearling work is done here by a fleet of state-of-the art boats and dedicated crew. I was eager to see what happens, but apprehensive as we were ferried from the Mallard across shark and crocodile-infested waters to the Paspaley 4. I imagined the boat would be filthy with foul-smelling debris from the sea scattered across the decks. Instead it was spotless and more akin to a luxury yacht than a working vessel.
Richard explained how the oysters benefit from the pristine water here, and are left for up to six years to produce their best pearl.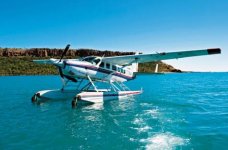 Below deck, it was fascinating to watch the Japanese technicians – including the one who'd harvested the Paspaley Pearl – 'seed' the oyster so that nacre, the mother of pearl composite material, which makes up the inner shell and the outer, iridescent coating of the pearls, forms around it, secreting six to eight layers a day. Standing behind these experts, I watched as they checked the mature oysters for pearls, popping them out like shelling peas. "That's a good one," my technician said, handing me a round, pink pearl. In the Sydney and Darwin stores I'd visited, I'd oohed over such gems, but here I was speechless – this was nature at its finest, yielding something so beautiful I could only stare in awe.
'Nature never makes mistakes'
My lessons in pearl appreciation meant I could assess the five virtues of each gem harvested – the lustre, complexion, shape, size, and colour. The more iridescent the pearl, the more it shines. For the perfect pearl, it needs to be blemish free, with no marks or dents, and, of course, the bigger the better. Shape and colour, I realised were purely personal. I saw nature creating round (considered the most desirable), oval, tear drop (the rarest), triangle, button, baroque, ringed or circle and keishi (the natural 'gift of gods' – tiny, misshapen, uncultured, accidental gems ) pearls of white, cream, silver, pink and champagne. The majority of pearls in the world are 7mm in diameter – Paspaley's are 15mm and over. They were all beautiful. "Nature never makes mistakes," Sydney's Sales Associate Ian Foxton had told us back in the showroom. "Your perfect pearl will find you."
He was right. As others went for the pink, round pearls, I gravitated towards the misshapen, intriguing baroque pearls in silver. "They're for connoisseur of pearls," Ian said, and now I knew why. Each one was unique, a piece of art made out of nacre that when strung together made a modern, statement strand...
Last edited: