We welcome back Yvel, with photos taken from their display at the Couture Show in Las Vegas. Yvel has a special relationship with baroque pearls. Their designs seem almost fused with each one-of-a-kind pearl.
To demonstrate, here are two pendant pearl necklaces. The pearls are so luminous and full of texture that we might expect to see life start pulsing within.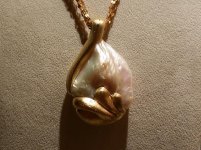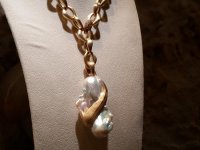 To see more, visit their website at
www.yvel.com
And to see their past Pearls of the Week, click
here
.
Blaire Beavers
Managing Editor
Pearl Guide News