Karen Suen's eye for color will steal your heart. You will need to visit the collection on her website to see the finest use of clam pearl, conch pearl, opals and diamonds in a ring that I have ever seen. Searching through the jewelry images was a review of some of the finest gemstones in the world, including an enormous padparadscha sapphire and dazzling jade.
I found out about Karen Suen at the Couture Show Awards competition. Although the lighting made photo opportunities difficult this year, the featured ring was a standout.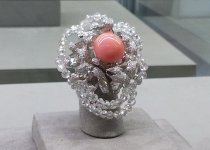 Much better, an official photo from Couture. Frilly and fabulous!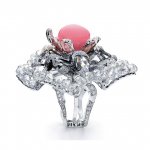 Trust me. If you love luxury jewelry, you are going to enjoy seeing the website. And the Facebook page has incredible video of the featured ring and many more conch pearl pieces.
www.karensuen.com
Blaire Beavers
Managing Editor
Pearl Guide News