The jewels of Utopia never disappoint. A simple necklace at first glance -- then the details emerge. Diamonds sprinkled under a deco inspired "knot", and just the right amount of twist combine to make this a standout piece.
If you have ever tried to match pearls in one strand, you will know that to match seven strands across makes working a Rubik's cube look easy. This lovely necklace is too long to be appreciated in one photo, so the video follows below.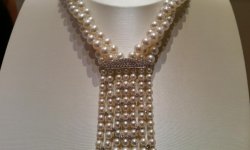 Necklace photographed at the 2015 Las Vegas Couture Show
The best website opening video, ever!
http://www.utopia-jewels.com
And see our past Utopia Pearls of the Week
Here
Here
And
Here
Blaire Beavers
Managing Editor
Pearl Guide News