Joined

Jul 28, 2014
Messages

873
I have been wanting to put this project together for a little while.
I want to recreate a golden snitch pendant, but instead of metal and plastic beads I wanted to use pearls and finer metals.
I finally found a GSSP that I will use and now I am trying to figure out the rest.
here is the pearl, it is drilled all the way through which can be good, or bad depending on how I lay out the necklace, and what findings are available.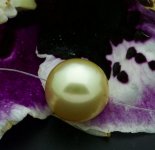 options for the necklace
Option 1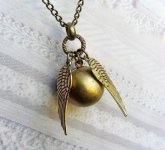 separate wing charms attached to the bail of the pearl, free hanging. This style would be worn on a long chain.
Option 2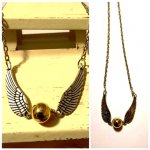 Wings are affixed to the chain and the pearl is attached to the wings. Worn at 18 inches
Option 3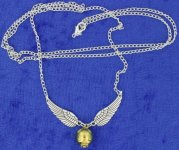 this is a mix of options 1 and 2, probably worn at 18 inches
I need silver colored wings, so I am hoping for white gold. Issue is I need one right sided wing and one left sided wing, and thats hard to find. Plus if I do it like option one I'd need a head pin and maybe a bead cap. Unless someone has a better idea.
Thoughts?