Joined

Aug 18, 2007
Messages

3,841
I was channel-hopping last night and ended up on our UK tv jewellery shopping channel, just as the presenter started to get very excited about some new pearls which are about to replace Tahitian pearls. There were maps, there were photos: there was my jaw dropping. 'what new species of oyster/'
I managed to grab my phone and got these two pix . This was claimed to be Pinctada mazatlanica, a new gulf of california/Cortez Sea pearl species which was now producing all new wonderful pearls.
Here was a photo of this new commercial pearl species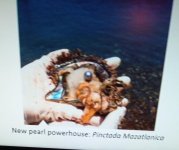 Now to me that looked like Pteria.
But hey
So I watched on, jaw slowly dropping. The pearls looked just like Tahitians and were priced pretty much as this channel prices their Tahitians (average lustre and flaws, but of course the best available in the world...)
This is one eg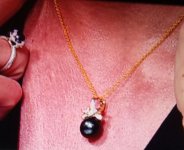 The also had a strand of around 10mm roundish dark pearls which eventually went down in price (they sell by reverse auction) to about, I think £700 (around $1k)
I have no idea what is going on here, but that defo looked like a pteria Sterna shell. Has anyone heard of big production of Pinctada mazatlanica?