Dear Pearl Friends,
If you will be in Southern California on April 27th, you will want to attend the 16th Annual Sinkankas Symposium on Pearls! It's an all-day event at the Carlsbad campus of the Gemological Institute of America.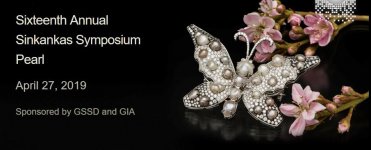 The Sinkankas Symposium honors John Sinkankas, a legendary gemologist and scholar, with an annual Symposium on a different gem topic each year. Now Pearls get their turn in the spotlight.
Speakers include:
Robert Weldon, Host
Douglas McLaurin-Moreno – Baja Pearls
Blaire Beavers – The History of Pearls
Betty Sue King – Evolution of the Pearl Goddess
Elisabeth Strack – An Update on Pearl Localities
Bill Larson – Collecting Rare and Unusual Pearls
Chunhui Zhou – A Brief History of Pearl Testing Through Gems & Gemology
Stuart Robertson – Pearls: Their Market and Price Trends
Hisano Shepherd, Reinventing the Pearl

And the truly amazing full-length movie, "Power of Pearl".
Go to the website to learn more and sign up. The price goes up on April 2nd, but it's well worth the full day of pearl knowledge. You also have a chance to visit with pearl friends on lunch and breaks and meet the speakers.
http://www.sinkankassymposium.net