Joined

May 13, 2015
Messages

6,855
My sister and brother and I went through my late Mom's jewelry last night and divided it up. My mother made us all sit down with her 2 years ago and pick out what we wanted, so there would be no hard feelings later when the time came. We rarely referred to that list. When we did, we saw that we each picked the same items we had picked 2 years ago. Sometimes, things we liked just didn't fit us, and we swapped items. I think we're still a little bit in swap mode.
My sister got most of the big mabe earrings from the 1980s, and some gorgeous akoyas that Mom let her wear on her wedding day. She also got some of the bigger bracelets, and the longer pearl strands, but I have plenty of my own. I was more attracted to the rice crispies and the smaller pearls and 1950's and 60's era strands.
Since there's a lot to share, I'll post one item a day.
I'll start with a necklace my sister is keeping. Mom's double strand of Mikimoto akoya pearls. 6-6.5 mm. AA. 25 and 26 inches long. The clasp is not a Miki clasp.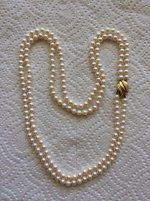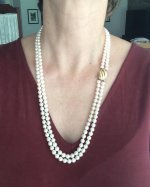 Originally, I convinced my sister that since there were two of us, and I had both of the original Miki clasps, that I could restring this into 2 necklaces and we could each have a Mikimoto necklace. Then I would buy some nice freshwater pearls and recreate the double strand, because my sister liked the look of this necklace.
Then my Dad gave my brother my mother's engagement ring, which my sister thought she was going to get, and her heart broke. I also looked at the perfectly matched pearls, and just couldn't break up the set. So I told her that the whole necklace is hers. I'd rather see her happy than have half those pearls.