Joined

Oct 18, 2018
Messages

299
Hi all. It's bad news for my wallet, being here.
For those who aren't following in the Akoya section, have been scoping out ahead of time some birthday/Christmas shopping for Mom. I think Dad will be pitching in on something Tahitian, and I've got the other things.
But, we need your help! (Only YOU can prevent decision-lock).
The situation is this -- we had decided on something through PP, but through some unforeseen circumstances that have no real fault or blame, the strand we'd had on hold was sold through the website before we could purchase it.
- C'est la vie.
The very amazing folks at PP have been generous and offered us a couple of other options. Here is what we are currently considering. I've done my best in Photoshop to color match the glamour shots: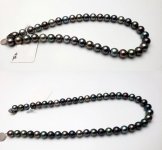 The top strand, PP has kindly offered to price match to the original strand we'd had on hold. So, monetarily/percentage speaking, it is the better deal. It is also 11.0-11.6mm in size, which I think for my mom's first and very nice strand of Tahitians, she might appreciate a bit more - she's not petite and being in her 50's she'd appreciate some substantial pearls.
The subject herself is no help on this decision, because she has flip flopped back and forth through our roundabout questioning!
The bottom strand is slightly less in price than our original choice, and is 9.2-9.7mm in size. The colors in it, however, are simply amazing and in the folks at PP who are helping us words, "It is a little bit smaller, but the luster, cleanliness, and color is unbelievably sharp." Our original choice was "gem grade," but PP has assured us that both of these are in the upper-AAA range.
The thought is that if I purchase my mother some Akoyas at some point (which I will), I would get them in the ~9mm range, so bigger Tahitians might be nicer! But... I just can't say I'm entirely in love with the color scheme of the top one... I am concerned, especially in the side by side photos, that the colors might be not as deep? But, maybe I am simply uninformed. Irony being that Mom probably cares the least and will be overjoyed with either, but in stereotypical male fashion, we've got full on paralysis by analysis.
Sadly, ordering and paying for both and returning one is not an option at this time. We already have the earrings, 12-13mm studs. Also thought is, with these studs, the smaller strand would look out of place. Thoughts, suggestions, comments, etc. would all be much appreciated.
Help us Pearl-Guide members; you're our only hope.