Joined

Aug 30, 2012
Messages

408
Article written by Anna Valmero on 2009, a bit old but of interest for those not familiar with the Badjao tribe.
IN one of my trips to Anilao in Mabini, Batangas, I met a pearl diver whom I think outshines the luster of any pearl I've seen. Tande Solare or "Mang Tande" as he was called by the locals is one of the first Badjaos who traveled to Batangas from Zamboanga. In 1972, he sailed the Sulu Sea and South China Sea until he reached the coast of Batangas, where his family now lives. "Umalis ako noon sa Mindanao, kasi [ma]gulo doon noong nag-Martial Law; maraming naghoholdap [I left Mindanao due to the peace conflicts in the area when Martial Law was declared; there were also lot of hold-up incidents]," Mang Tande says. According to local Batangue?os at Anilao, he is the first Badjao pearl diver who arrived in the area and has been a regular visitor to the Anilao beaches over the years. Some resort owners even await the arrival of Mang Tande to buy pearls. As member of an indigenous tribe known to live on the water, Mang Tande says he has lived all his life relying on the water to survive and brings meals to his family. "Naninisid ako ng perlas, sapul maliit pa ako. Ito ang hanapbuhay ng magulang ko rin [I have been a pearl diver since I was young. This has also been the way my parents earned their living]," says Mang Tande. While I was talking to him, his youngest son, a 5-year-old boy, inspects some shells nearby along with his older cousin. At a tender age, he ventures into the sea with his father. Mang Tande dives underwater without breathing equipment. Only a rope tied around his waist serves as his lifeline to get back to the banca or small boat. It takes about a week or two before Mang Tande can go back to his family. He catches fish or buys sweet crop (kamoteng kahoy) to feed himself and his companions throughout that two weeks, while sleeping on the sandy shore. When it rains, a tree canopy serves as their shelter. He says he braves living on the shores without roof above his head all for his family. He dreams of giving his four children the gift of education, which he was unable to have.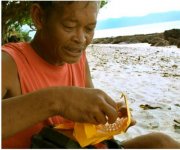 Customs ans Religion: The Badjao are a Filipino Muslim ethnic group of sea gypsies: small groups of boat –dwelling people. They are one of the largest Sama people groups. Their ethnic neighbours, the Tausog and the samal, often called Samal –luwaan (outcasts) or Samal –laud (people of the ocean). They are the poorest ethnic group in Sulu. They depend mainly on fishing for their survival. Badjao communities fall under the category of government DDU areas: depressed, deprived, and underdeveloped. Those that move to urban areas often become beggars.
Customs and Religions: Badjao families have been age –old boat dwellers but recently they have started to live on floating houses built on stilts above their boats and fishing paraphernalia. As a sea –oriented people, they are experts in fishing and pearl diving. Their life revolves largely around the fishing industry. Several Badjao ritualshaving religious significance combine animistic and Islamic beliefs. In general, however, the Badjao are not very pious. Most badjao are so busy just trying to survive that religion often does not play a major role in their lives.
and by Hashified Soul
When we talk about coin divers, it is not actually a simple thing that people do. In fact, it is a profession. It is a means of earning a living among small children and teenagers in the country of Indonesia, particularly in the Sunda Strait plying between Java and Sumatra. In the Philippines, it has become a part of daily life in some ethnic groups called Badjaos in Sulu Archipelago.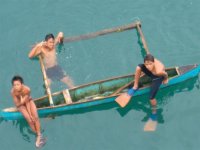 You can usually observe this kind of unique attraction of young men, and sometimes women, dive for coins when you have to travel and pass by the Sunda Strait, a small strait between Java and Sumatra Island. This will happen before the passenger ferry leaves the port wherein a number of young people jump from the deck of the vessel down to the water below. After doing such thing, they will ask the passengers on board the ferry to throw coins at them, and then the coin divers would race each other to retrieve those coins and keep them.
A lot of people may find this an entertaining scene while they are travelling, but they just don't know how dangerous this activity is for the divers. The divers run the risk of being hit by the vessel or pulled into the ship's propeller that can slice them into small pieces. Aside from this, they might also bump their bodies when jumping down from the deck of the vessel to the water. Although most of them are extremely fast swimmers and have guts enough to do this job, we still cannot deny the fact that the same thing might be too risky for them.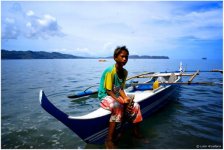 Once you've witnessed this activity, you might be asking yourself – why these people don't find work. Well, this is their way to earn a living so they have already considered this as their own work. The coin divers are mostly children in their preteens or young adults. Some of them are school students who do this to earn for extra money.
Many others had dropped out of school and do this just to get a life. They use whatever amount they earn to help support their family. Unfortunately, most of the divers have no other skills other than diving and swimming so this might be the reason why they cannot look for another job.
On the other hand, in the ports Surigao and Butuan City, Philippines, there is another version of this "practice". You can observe that most of the children were having fun while waiting for the passenger of the ferry to throw their coins. One child would seem to be desperate and/or dramatic, he would beg with pleading eyes at the passengers and when others catch the coin, he pretends crying.
Most of the coin divers enjoy their job and are proud of it. In fact, their jobs keep them from the street and they could earn good money in a legal but of course, unsafe way.