Joined

Dec 7, 2006
Messages

1,083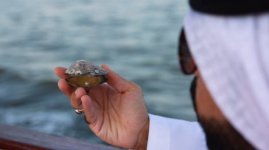 Ajman: The experience of pearl diving, a centuries-old tradition of Emirati culture, is now available in Ajman for citizens, residents and tourists.
Abdul Aziz Bin Humaid Foundation in cooperation with Rahal Travel and Tours, a subsidiary of the Ajman Holding Group, has announced the launch of the Ajman Pearl Journey, which will offer pearl-diving tours that combine culture, tourism and heritage.
The aim of the tour is preserving and sharing the UAE heritage among its current generation of citizens, residents and tourists, the foundation said in a press release.
With Ajman Pearl Journey, people of all ages will now have the opportunity to learn about pearling, which has been associated with Emirati culture for centuries.
"Al Tawasha" has been a centuries-old tradition of Emirati culture practised mainly in Abu Dhabi. With the launch of Ajman Pearl Journey, the experience is closer to even those living in Dubai and Northern Emirates.
Guests have the chance to become treasure hunters for a period of 60 to 90 minutes by sailing on the Jalboot, the wooden diving boat, to enrich their knowledge of the history of pearls in the Arabian Gulf. The unique experience highlights how pearling was the mainstay of the UAE economy, involving the majority of men and boys in the creek settlements.
Although there are no records when this valuable resource was first harvested, pearls have been found in local excavations at archaeological sites dating back 7,000 years. For the people of the UAE — and before that, the Trucial States — pearling was a major seasonal form of employment. Some men engaged in pearling would return home to tend to date gardens in inland oases and herd camels between seasons, but for most it was a full-time occupation.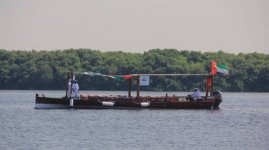 "Ajman Pearl Journey is not only about finding pearls. It is one-of-a-kind experience filled with suspense and pleasure, while reflecting the warmth and heritage of authentic Arabian hospitality. On a marred, seemingly ancient wooden deck called Al Jalboot, we provide the secrets of pearling and how crews were able to survive in the middle of the Gulf for months at a time," said Yahya Al Jasmi, general manager of Ajman Holding Group.
The Ajman Pearl Journey starts from Al Zorah Marina, next to the Crimean Forest and Ajman Creek, with the guide sharing unique insights into the history of pearl diving in the UAE.
The journey is an acknowledgement of Emirati pearl divers who helped the UAE become a vital and international trading port. Since its inception, the tour has become integrated into Ajman's fabric and has grown bigger with each passing year, said the Foundation.
Three tour packages are available for Dh150, Dh350 and Dh450, depending on the number of people attending and duration of the tour
http://gulfnews.com/news/uae/tourism/ajman-offers-pearl-diving-journey-1.2152119