Brenda Smith creates bold and beautiful pearl designs. Everyone loved seeing her glamorous Celebration earrings in the CPAA Awards display, so I felt lucky to find her in the design center of AGTA Tucson.
This necklace was unexpected and so much fun. An unusual pearl deserves unusual treatment!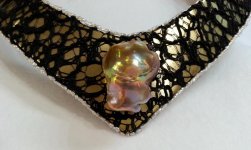 Notice the tiny akoya keshi outlining the piece - a dainty contrast to the black lace.
And this necklace was a stunning use of freshwater cultured pearls and diamonds.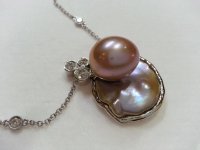 Actress Ella Thomas shows off Brenda's Celebration earrings in a photo from the Brenda Smith Jewelry website.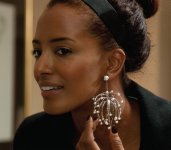 Visit the website to see an amazing range of designs and be sure to see the black lace rings
www.brendasmithjewelry.com
Blaire Beavers
Managing Editor
Pearl Guide News