Brenda Smith is cool. Period. And she's a great designer who uses pearls as if she was born to them.
Case in point -- this amazing pendant seen at the Design Center of the JCK show in Las Vegas.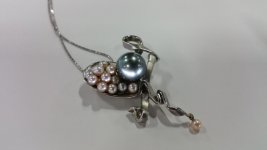 You can see more of Brenda Smith at
www.BrendaSmithJewelry.com
and
www.JewelryOfFaith.com
See her previous Pearls of the Week
HERE
.
Blaire Beavers
Managing Editor
Pearl Guide News